Eddie Howe admits Brighton defeat is a warning to Newcastle
Eddie Howe admits defeat at Brighton is a warning Newcastle cannot allow their Champions League adventure to distract from the "ruthless" Premier League.
The Magpies are back in the group stage of European football's premier competition for the first time in 20 years and travelled to the Amex Stadium having been drawn to face heavyweights AC Milan, Paris St Germain and Borussia Dortmund.
But anticipation of those upcoming fixtures was swiftly tempered by a third successive top-flight loss as a hat-trick from 18-year-old Evan Ferguson earned the Seagulls a 3-1 success.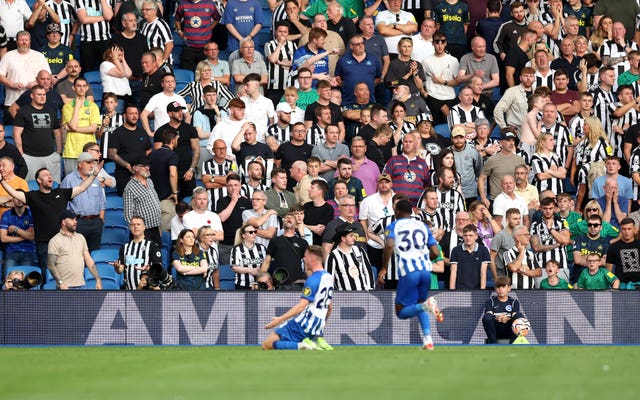 Manager Howe, whose side were beaten 2-1 at home by 10-man Liverpool last weekend following a 1-0 defeat at Manchester City, accepts responsibility for the mini slump but insists he will not over-react.
"It's never been lost on me how difficult the Premier League is," he said.
"I know how tough a league it is, it's ruthless, so if you get your focus swayed, you're going to have big problems – I don't think our focus has been.
"We've tried to very much concentrate on our next match, that will always be our focus and we're determined to be successful in the league this year and win as many games as possible.
"But we know the demands placed upon us are going to be extreme so this is a warning, I think, that we can't be swayed and the Premier League is a very tough division.
"We've lost three in a row and we have to take responsibility for that. It's important that I don't over-react."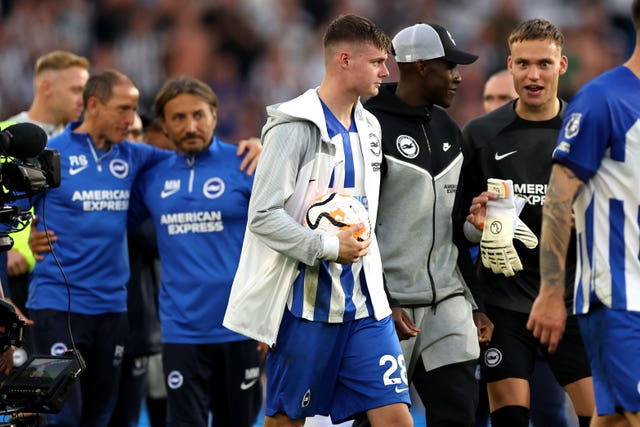 Newcastle had the better of the early chances on the south coast but fell behind to Ferguson's 27th-minute opener following defensive errors.
The Republic of Ireland striker doubled his tally with a stunning long-range effort before becoming only the fourth teenager to register a Premier League treble thanks to an effort which deflected in off Fabian Schar.
Howe, who revealed sidelined midfielder Joe Willock will be out for a further six weeks after his hamstring issue was compounded by a fresh Achilles problem, is itching for a swift return to action going into a two-week international break.
"I'd like a game pretty quickly, if I could," said Howe, whose team host Brentford on September 17.
"We have some great games to come and we're looking forward to that challenge.
"I think the challenge to me is to lift everybody and keep our confidence levels because we are a very good team and we have to always have that in the back of our minds as we go into the next two weeks.
"The lads are very disappointed. Collectively we've got an outstanding group of individuals, great mentalities and we know what we've got to do."
Ferguson's first senior hat-trick, which was followed by Callum Wilson's consolation, was the third in the Premier League on Saturday after trebles for Manchester City's Erling Haaland and Tottenham forward Son Heung-min.
"It's a good day," he told Brighton's website. "It's an unbelievable feeling.
"It's not bad company to be in; Haaland's record last season (52 City goals in all competitions) and Son's been doing it for a number of years, so it's good company to be in."
Ahead of kick-off, the Seagulls paraded 20-year Spain forward Ansu Fati following his deadline-day loan switch from Barcelona.
"He's going to be great for the squad, especially as competition," said Ferguson.
"It's tough up that area of the pitch and he's going to be another one chucked in there and I reckon he'll be very good for it."