Marco Silva says it should be 'impossible' to allow controversial Man City goal
Fulham manager Marco Silva claims it should have been "impossible" to allow Manchester City's controversial second goal to stand in his side's 5-1 loss to the champions.
The Cottagers had been holding their own against the treble winners at the Etihad Stadium when City went 2-1 ahead on the stroke of half-time with a Nathan Ake header.
Fulham argued long and hard that City defender Manuel Akanji, stood in an offside position, had played at the ball and impacted goalkeeper Bernd Leno.
Despite a VAR review and further lengthy protests, the goal was given and City went on to win comfortably with a second-half hat-trick from the prolific Erling Haaland.
Silva said: "The second half was not at the level that it should be. I tried to tell the players not to lose focus from things that we cannot control but, of course, that moment made a huge impact on them.
"Even all the explanations that we listened to during that period didn't make sense at all.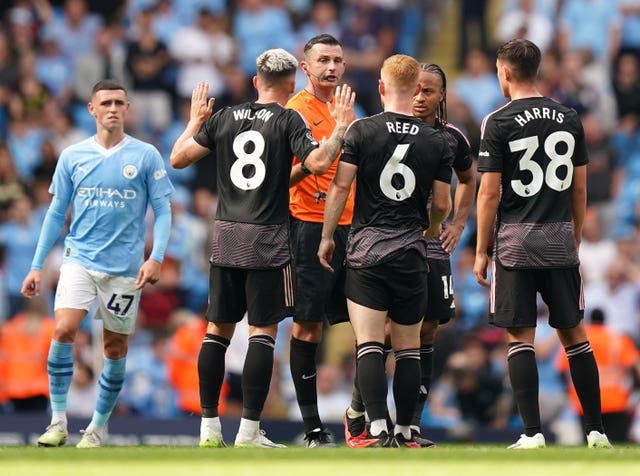 "What I can say? Everyone that plays football, everyone that has played football, everyone that has some knowledge about football – I'm 100 per cent sure – has to disallow that goal.
"Everyone has to be furious if a goal like that comes against you. For the linesman I believe that it can be difficult but, for the VAR, it is impossible not to disallow that goal. It is a clear offside."
Silva admitted Joao Palhinha had not been in the right frame of mind to play after his proposed deadline day move to Bayern Munich collapsed.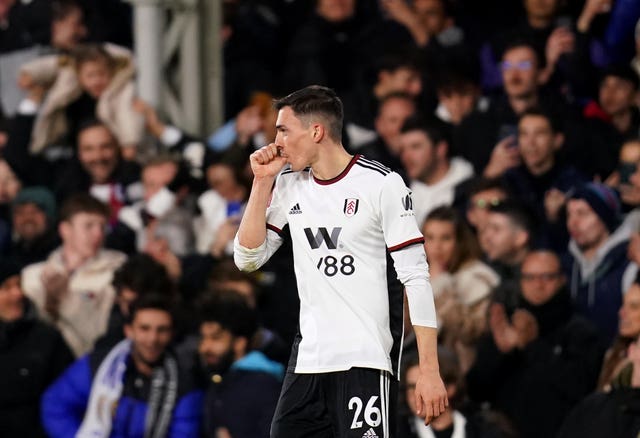 Silva said: "It was a tough day for him, definitely, probably one of the toughest days of his life.
"He loves Fulham, he loves football, he loves to be with us. He had the fantastic season last season and he's always a player that gives 100 per cent for the shirt but he had a big chance to go to one of the biggest clubs in the world and he was really close.
"You can imagine the impact that has on a football player when these type of things happen."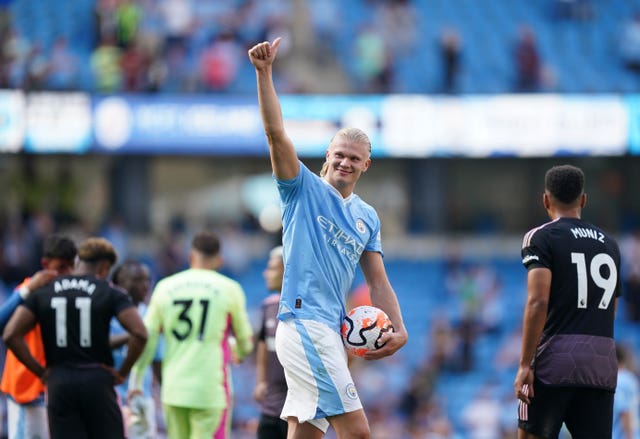 City were not at their best in the first half and saw their opening goal from Julian Alvarez quickly cancelled out by Tim Ream.
Yet after the stormy end to the first half, they moved through the gears after the break with Haaland, scorer of 52 goals last season, coming to the fore.
Assistant boss Juanma Lillo, who has won both of his matches in charge since manager Pep Guardiola underwent back surgery, said of the Norway striker: "This guy was born scoring goals and he'll go through his whole life scoring goals, so it'll be no surprise if he manages to get those same figures as last time.
"But it doesn't matter if he doesn't as he's great at providing play for the players. Today he made one assist and also put a ball through to another player. I'd always look at his intelligence as well as his goalscoring stats."
City midfielder Jack Grealish missed the game with a thigh injury and is now doubtful for England's upcoming internationals against Ukraine and Scotland.
Lillo said: "It would be difficult to be able to make it for the national team but I am not a doctor and it would be difficult for me to explain."