Declan Rice is type of player everyone is looking for – Palace boss Roy Hodgson
Roy Hodgson admits every Premier League manager is looking for a player like Declan Rice to anchor their team as he prepares his Crystal Palace side to come up against the England midfielder on Monday.
The 24-year-old's £105million move to Arsenal from West Ham last month made him one of four players in his position to have been bought for a nine-figure fee by European clubs during the last eight months, as the value placed by top sides on central midfielders has rocketed.
Rice is part of an elite group that includes World Cup-winner Enzo Fernandez and his new Chelsea team-mate Moises Caicedo – both signed by the Blues for British record fees – and England's Jude Bellingham, who joined Real Madrid in July, with each having been signed for fees that could exceed £100m.
Hodgson's Palace began the Premier League season with a 1-0 win at promoted Sheffield United but face a stern test when last year's runners-up arrive at Selhurst Park, with Mikel Arteta's side buoyed by the arrival of Rice to add steel to their midfield ahead of their return to the Champions League.
Experienced manager Hodgson said that, whilst it remains the game's great goalscorers that command the highest fees, the importance of a deeper-lying central midfielder has been proven by English football's most successful sides.
"I think it (central midfield) has always been big," said Hodgson. "I don't think it's anything new. You will never be able to align it to centre forward because centre forwards will always be right up there as really big ones.
"It's still Neymar and (Kylian) Mbappe that go beyond our hundred million pounds here. Harry Kane, yes he cost just over a hundred million (when he signed for Bayern Munich), but only because he was in the last year of his contract. If he'd have had a three-year contract, Tottenham would have been asking for a lot more money. They score the goals. The game is about goals.
"But I think the midfield area is an area where people within football have always understood the importance of it and the importance of getting good players in, none more so than Sir Alex (Ferguson) at Manchester United because he always had really, really top-class players in that centre of midfield, all of whom brought him trophies.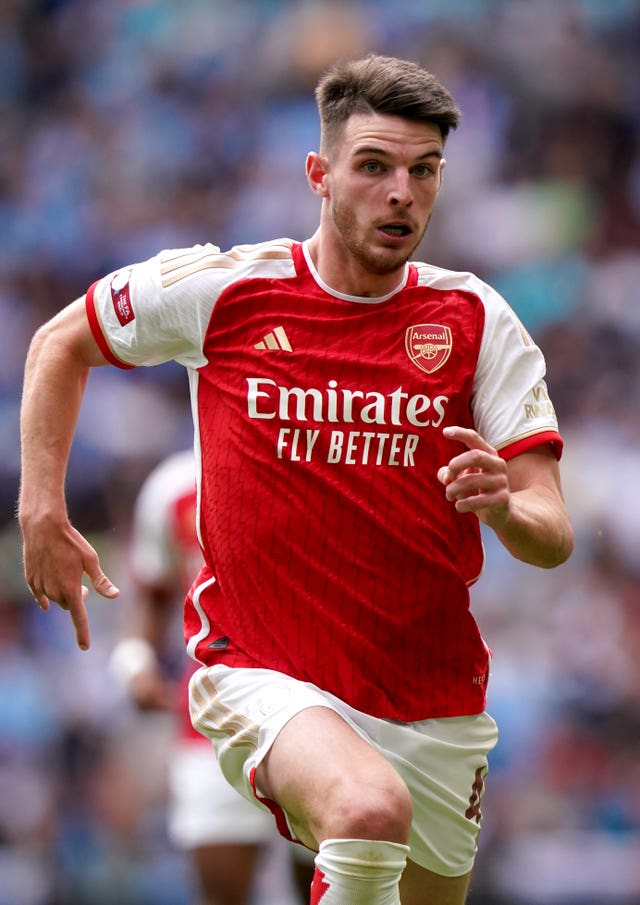 "(Rice) has got strength, he's got energy, he understands the game very well. He gets from box to box, and when he's in each of the boxes, he does a really good job. He knows how to defend and he also has an eye for goal, so really he's the type of player that every person is looking for."
Hodgson enjoyed the boost of winger Michael Olise turning down the chance to join Chelsea last week after Mauricio Pochettino's side activated a £35m release clause.
The France Under-21 international, who Palace signed from Reading for a relatively modest £8m two years ago and has since flourished into an accomplished Premier League performer, instead opted to agree a new four-year deal to continue his development in south London.
He will be missing from Hodgson's team to face Arsenal as he continues his recovery from a hamstring injury.
Yet it is Arsenal's transfer business that occupied Hodgson's attention ahead of Monday's game, with Rice set to make his second Premier League start as the Gunners look to go one better and take the crown from champions Manchester City.
"It's been an interesting development for him," said the manager. "I've followed him a little bit myself through (James) Tomkins (who) told me about him many years ago. He said there's a very good young player at West Ham, and I've seen that as he's gone along.
"He's done his apprenticeship really, coming through the ranks. He's done his years at West Ham, each year getting better, and in the end becomes an international and clubs are (thinking) 'who can I get who's the best at his particular job for this role?'
"Declan Rice's name is always going to be right up there on the top of the list, as was Bellingham of course at Real Madrid."