Pep Guardiola hopes Manchester City complete signing of Josko Gvardiol soon
Pep Guardiola is hoping Manchester City complete the signing of defender Josko Gvardiol within the next few "hours or days".
The 21-year-old Gvardiol was undergoing a medical with City on Friday afternoon ahead of his proposed move from RB Leipzig.
The treble-winners are closing in on a deal for the Croatia international and are understood to have agreed a fee of 90million euros (£77.6m) with Leipzig.
Speaking at a pre-match press conference ahead of Sunday's Community Shield clash with Arsenal at Wembley, City boss Guardiola said: "Regarding Gvardiol – what a beautiful surname he has – he's doing a medical test.
"Everybody knows he's here, and hopefully we can finish the deal in the next hours, the next days."
Put to Guardiola that completion of the deal would give him six central defenders, he said: "The season is so long, there is many, many games. (It is) absolutely not (too many)."
When asked if, after Gvardiol, City would be done in the transfer marker, Guardiola said: "I don't know. I think it is going to move, something. Not yet."
City have already this summer signed Mateo Kovacic from Chelsea, while outgoings have been fellow midfielder Ilkay Gundogan going to Barcelona at the end of his contract and forward Riyad Mahrez joining Saudi Arabian outfit Al-Ahli.
Kyle Walker has been linked with Bayern Munich and Bernardo Silva with Barcelona and Saudi Arabia, and Guardiola said: "They are so important players for us. We want them, we are going to do everything.
"It's not like Gundo, finishing a contract – they have a contract. We want them to stay because they want to stay, and to replace these two players is so, so difficult.
"We lost two incredible players for us, Ilkay and Riyad in the last seasons were massively important, incredible goals and assists and personalities in the biggest stages and big important games. To lose Kyle and Bernardo would be so difficult."
He added, when asked more about Silva: "I want to work with guys who want to stay…but after that we have to get an offer…a proper offer.
"If they want him, they will take a plane, come here and talk with our sporting director, the CEO, to arrive at an agreement.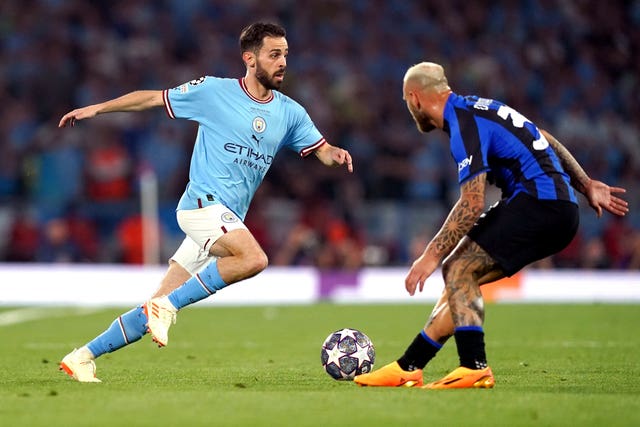 "For us to buy a player is £10-15m more expensive than other clubs, all the time it's like that. And the same guys, when they want our players, really important players, first they have to make an offer – and it didn't happen.
"Some players feel they want a new experience. I will not be the guy to say 'no', but you have to take an agreement with an important part of the club, the business, (to) make a deal happen.
"In the case of Bernardo and Kyle, we talk many times over the last months and even years how important they are for us, how we want them and we will continue to do it until the end.
"What is going to happen I don't know but it is not going to happen if both clubs don't arrive.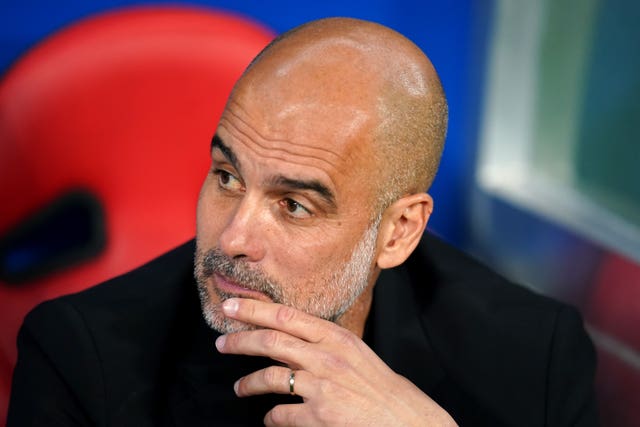 "They are massively important players. When we lose these type of players we have to go to the market to buy replacements, and it doesn't cost £10m, £20m, £30m, £40m, £50m – it's more expensive than that."
Last month City ended their interest in signing Declan Rice from West Ham after Arsenal bid £105m for the England midfielder, who subsequently made a British-record switch to the Gunners.
Asked if he had been disappointed to miss out on Rice, Guardiola said: "Absolutely not. Declan Rice decided to go to Arsenal, the offer was incredible, and all the best. I think for England he is and will be important, and Arsenal bought an incredible player."
Meanwhile, Juanma Lillo has returned to City's coaching staff. The 57-year-old Spaniard was previously on Guardiola's backroom team for two seasons from the summer of 2020 before departing to become head coach at Qatari outfit Al Sadd.