Extraordinary – Wrexham director says reception in US has exceeded expectations
Wrexham executive director Humphrey Ker says America's reaction to the team this summer has exceeded their wildest expectations.
The Welsh club have become one of the most talked-about teams in the world since Hollywood stars Ryan Reynolds and Rob McElhenney took charge 30 months ago.
The 'Welcome to Wrexham' docuseries has seen the club wins hearts and minds across the world, with that blossoming fandom clear during this summer's US tour.
More than 50,000 were in attendance for last week's friendly against Chelsea in North Carolina and many of the 34,248 at Tuesday's friendly against Manchester United's youngsters were rooting for the League Two club.
"It's been extraordinary, really," actor and club executive director Ker told the PA news agency.
"We hoped with the success of the documentary that people would turn out to see us and visit us and be happy to have us here.
"It's exceeded our wildest expectations, really, in every stop on the journey."
Ker has found the lengths people have gone to in the US to watch Wrexham "pretty humbling", underlining a growth that shows few signs of slowing.
Asked if the club's rapid rise has surpassed his expectations, he said: "Oh, definitely.
"We always felt that with a bit of an injection of money and love and attention, the club could start to rise up the ranks in the UK.
"But to be at this stage after two and a half years of being in the US, playing a team like Manchester United in front of a sold out 35,000 crowd is pretty extraordinary."
Wrexham won Tuesday's match 3-1 against 10-man United in San Diego after recovering from star striker Paul Mullin's early injury at Snapdragon Stadium.
It was a memorable victory but the League Two club have tried to make the experience about more than the match, bringing a little slice of Wales with them to the US with their fan fest.
"It's very cool," Ker said. "We've been pretty overwhelmed with the response to everything.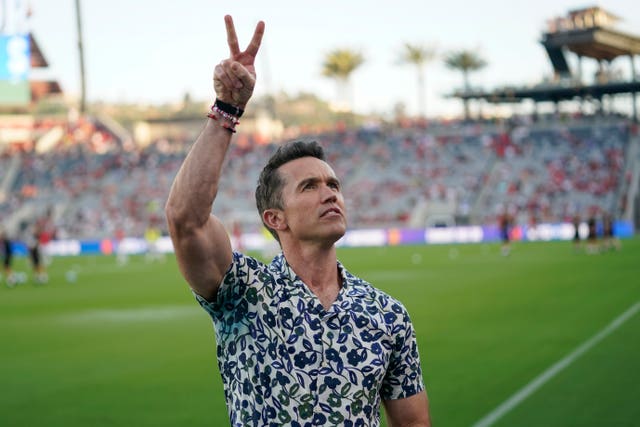 "I think I think we've tried to meet enthusiasm with enthusiasm. I talked to a couple today, they came in from Colorado this morning, some folk they come from Utah, they come from all over the US.
"So, we want to make sure there's a good thing for them to attend."
McElhenney was loving Tuesday's match – a game fellow owner Reynolds had to watch from afar as he is filming Deadpool 3 in the UK.
"I think he slightly cursed our names when he worked out that he was going to be in the UK for the summer and we were going to be over here," Ker said with a smile about Reynolds' absence.
"But, you know, the great thing about that is it gives them lots of opportunities to come and see league games. We're back in action in about 10 days' time so he'll have his chance."