Manchester City treble-winners can be judged among the greats – Pep Guardiola
Pep Guardiola believes Manchester City have earned a place among the greats after finally winning the Champions League.
City completed the treble on a glorious night in Istanbul on Saturday as they beat Inter Milan 1-0 in a hard-fought final with a 68th-minute Rodri strike.
City have dominated the domestic scene under Guardiola, winning five Premier League titles in six years as well as two FA Cups and four Carabao Cups, but European success had eluded them.
"You have to win in Europe to be considered a great team and we did it," said Guardiola in his post-match press conference at the Ataturk Olympic Stadium.
The challenge now for City will be to build on their triumph and establish a dynasty in European football.
Guardiola said: "I don't want to disappear after one Champions League. We have to work hard next season and be there.
"There are teams who win the Champions League and disappear. We have to avoid that.
"Knowing me it is not going to happen but it is a big relief to have this trophy."
Guardiola paid tribute to Inter for their dogged performance and to the City hierarchy for keeping faith in him after years of near misses in the competition.
"For Inter, I must congratulate them for their performance," he said. "I know what they feel because we felt it two years ago.
"There are no words that can handle the pain but they are the second best team in Europe and that is incredible.
"The second word is for my sporting director, CEO and chairman. Normally when you don't win the Champions League after so many years you are sacked. How many clubs destroy the project?
"It looks like this competition this year was in the stars.
"Now is time to celebrate. I am looking forward to Monday in Manchester on our (open-top bus) with three trophies."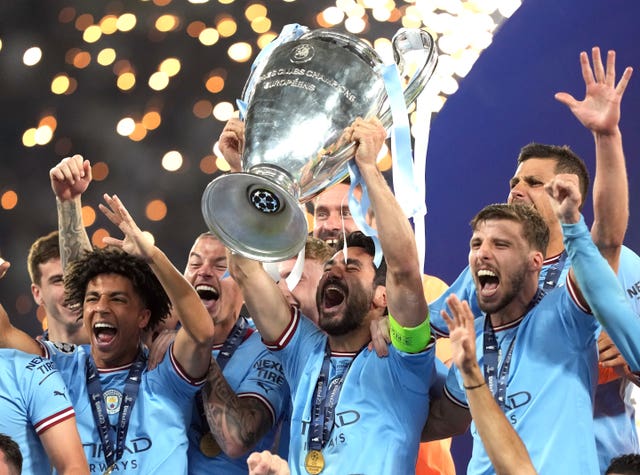 City have become only the second English team, after Sir Alex Ferguson's Manchester United in 1999, to have won the treble of Premier League, Champions League and FA Cup in the same season.
Guardiola said: "It is an honour from me to be alongside Sir Alex Ferguson. I got a message from him this morning and it is an honour."
Match-winner Rodri was thrilled by the achievement.
The midfielder told BT Sport: "I'm emotional. This is a dream come true.
"It wasn't easy. What a team we faced – unbelievable they way they defended, the way they counter-attacked. They deserve credit because they are a great team but I don't want to forget about my lads. We did everything.
"Some of these guys are 20, 21, 22, some of them their first final, but we compete like animals."
Defender-cum-midfielder John Stones was proud to have played his part.
Stones said: "It was the thing that we were missing and I feel so pleased. It's a pleasure to be a part of this team, to create this history. It's so special."
Right-back Kyle Walker, who came off the bench, said: "I'm over the moon. I'm very rarely speechless, but my dream has just come true."
Inter coach Simone Inzaghi felt his team could hold their heads high.
Inzaghi said: "We do have regrets because defeat is the worst thing in sport but at the same time, I have to congratulate my lads.
"They are very sad, disappointed, but they must be proud of their campaign and the final they played. We didn't deserve to lose but we played against a top team.
"Manchester City deserve the Champions League considering what they have done in the past years.
"Tonight they played against a great Inter who cornered them, but I congratulate Guardiola. They have gone close to winning it many times but I would have liked them to wait a little bit longer."