Roma boss Jose Mourinho charged by UEFA over criticism of referee Anthony Taylor
Jose Mourinho has been charged by UEFA over criticism of referee Anthony Taylor in the wake of Roma's Europa League final defeat to Sevilla in Budapest on Wednesday.
Subsequent video footage of Taylor being accosted by angry fans at the airport has been condemned by the Premier League, which said it was "shocked and appalled" by the abuse suffered by the official.
Mourinho's charge for using insulting/abusive language towards a match official is one of a number of charges levelled against both clubs after a stormy final that yielded 13 yellow cards.
Mourinho criticised Taylor in his post-match press conference, and in video footage which later emerged on social media, the former Chelsea and Manchester United manager is seen gesticulating at Taylor and officials in the stadium car park and heard saying "disgrace".
In the incident at the airport, clips on Twitter show a chair and drinks being thrown in the direction of Taylor and his group as they make their way through a gathering of Roma fans.
A Premier League spokesperson said: "We are shocked and appalled by the unacceptable abuse directed at Anthony Taylor and his family as they travelled back from the UEFA Europa League Final.
"No one should have to suffer the inexcusable behaviour they had to endure yesterday.
"Anthony is one of our most experienced and accomplished match officials and we fully support him and his family."
A UEFA statement read: "UEFA vehemently condemns violent behaviour directed towards its referee Anthony Taylor and his family. Such actions are unacceptable and undermine the spirit of fair play and respect that UEFA upholds.
"Referees play a crucial role in ensuring the integrity and fairness of the game, and their safety and wellbeing are of utmost importance. UEFA stands firm in its commitment to creating a safe and respectful environment for all participants, including referees, and will not tolerate any form of violent behaviour towards them.
"We urge all players, coaches, and fans to embrace the values of sportsmanship, treat referees with dignity and respect, and join us in upholding the highest standards of conduct on and off the pitch.
"UEFA maintains a close collaboration with local police and airport security starting from the referees' arrival in host cities. However, we are constantly striving to enhance the security measures for officials in coordination with local authorities. We will carefully assess the incidents and incorporate valuable insights into our future event planning processes."
The Professional Game Match Officials Limited (PGMOL) said in a statement on Thursday evening: "PGMOL is aware of videos circulating on social media showing Anthony Taylor and his family being harassed and abused at Budapest Airport.
"We are appalled at the unjustified and abhorrent abuse directed at Anthony and his family as he tries to make his way home from refereeing the UEFA Europa League final.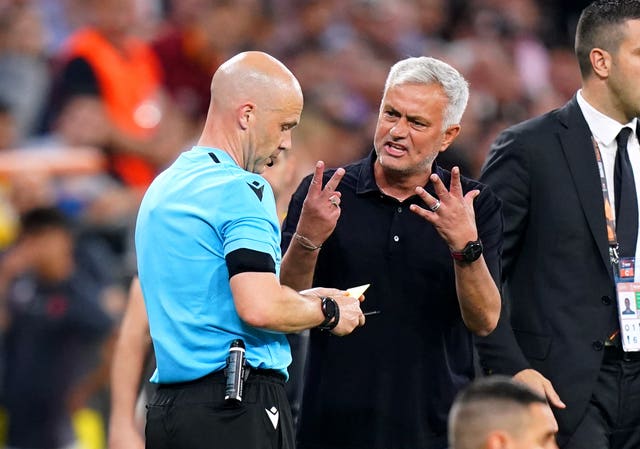 "We will continue to provide our full support to Anthony and his family."
Taylor booked Mourinho during the game, which finished 1-1 after extra time before Sevilla sealed their seventh Europa League triumph by winning 4-1 in a penalty shoot-out.
The game was littered with delays, with a total of 25 minutes' stoppage time added to the 120 minutes of playing time.
UEFA has also charged both clubs with throwing of objects, lighting of fireworks, and the improper conduct of the team. In addition, Roma have been charged with crowd disturbances and acts of damage.
West Ham boss David Moyes condemned the treatment of Taylor as he prepares his side for Wednesday's Europa Conference League final against Fiorentina in Prague.
"I didn't see the game so I can't comment on the game itself or the officiating," Moyes said.
"All referees have a really difficult job and shouldn't be put through any difficult situations, which I heard about this morning. That's not correct."