Paul Simpson plans 'really good night' on the beers after Carlisle win promotion
Overjoyed Carlisle boss Paul Simpson was happy for his players to head out and enjoy a beer following their dramatic 5-4 penalty shootout win over Stockport in the Sky Bet League Two play-off final.
After the Wembley showdown ended 1-1 after 120 minutes, the Cumbrians held their nerve to score five faultless spot-kicks to seal promotion and return to League One after nine years away.
"I'm delighted for all the players," said Simpson. "They've shown the desire to really dig in during that second half, because we had to earn the right to take it all the way.
"We had to hang in there a little bit, but I'm so pleased we've stuck at it and taken the game all the way.
"We've done that all season, and to be honest that began on June 22 last year when we started pre-season.
"Someone has said we were eighth favourites to go down but, after this, I'm just so unbelievably proud of the group, the whole football club, and of course the supporters.
"I've lost all my previous games at Wembley so I felt that run couldn't continue too much longer, but this day is going to be right up there.
"We've probably overachieved in securing promotion, and I have to say I didn't really expect this at the end of this season, but again credit to the players for their efforts.
"We've always had the belief but wow, we're in for a really good night now.
"The players and the supporters have earned a beer."
It proved to be a tightly contested, energy-sapping first half amid summery conditions at Wembley.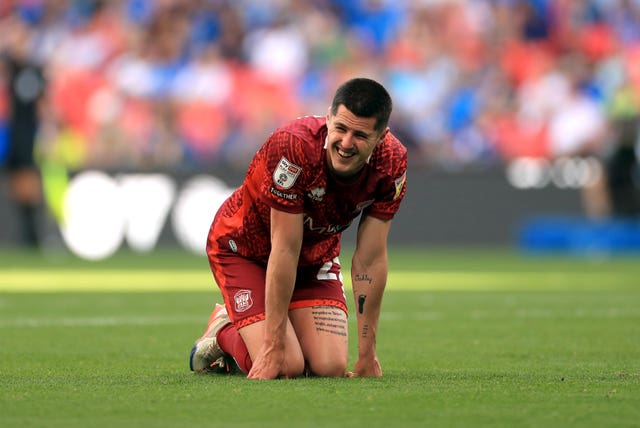 Stockport held the advantage at the break thanks to a touch of fortune when Isaac Olaofe's cross flicked off Jon Mellish's boot before looping into the far corner.
However, Carlisle substitute Omari Patrick's drilled finish in the 84th minute sent the tie into extra-time.
After Ryan Rydel's sole penalty miss in the shootout proved decisive, last season's Vanarama National League champions Stockport missed out on back-to-back promotions.
Boss Dave Challinor has urged his talented squad to learn from the heartbreaking defeat.
"I wasn't too surprised that the game was so tight, but obviously it's a really disappointing way to lose," he said.
"We've gone through all the emotions over the last week – winning on penalties against Salford and then this – but we have to learn from days like today.
"We have to learn from it and take all the positives we can.
"It's not a nice feeling, but we have to use this feeling to motivate us for what will be a different prospect in League Two next season."
Challinor felt huge sympathy for youngster Rydel, who has otherwise enjoyed a terrific season at Edgeley Park.
"He'll just have to learn from the experience," added the County boss.
"We're all gutted for him, but anyone can miss a penalty in that situation.
"Better players than Ryan have missed pressure penalties like that, and you have to say that all the other nine were pretty much perfect so that's just how it goes sometimes.
"Ryan has got to use this as a driving factor for his future career.
"It's an important experience he has to go through, but he's a great lad and he'll get over it."