Jeff Stelling signs off from Soccer Saturday as touching tributes pour in
Jeff Stelling signed off from the "best job that anybody could possibly have wished for" as the presenter bade farewell after almost 30 years of fronting Soccer Saturday.
The 68-year-old announced last month his intention to stand down as anchor of the Sky Sports programme and earmarked the final day of the Premier League season on Sunday afternoon as his last show.
After touching tributes from colleagues past and present, Stelling was given a lengthy standing ovation by the punditry panel of Paul Merson, Clinton Morrison, Kris Boyd and Michael Dawson.
Stelling, who had planned to quit last year before reversing that decision, briefly hid his emotions with a mask of himself and quipped: "This is tricky because I've changed my mind – just kidding.
"I haven't changed my mind this time."
Stelling was clearly moved by the highlights package Sky televised in the final minutes of the show after Everton retained their top-flight status and confirmed the relegations of Leeds and Leicester.
Merson, Alan Mullery, Frank McLintock, Clive Allen, Charlie Nicholas, Phil Thompson and Matt Le Tissier passed on their well wishes and congratulations, as did Chris Kamara, who in a nod to the catchphrase that has become synonymous with the pair and the show, said: "You are unbelievable, Jeff!"
Stelling revealed he had been contacted by the likes of former Scotland player and manager Gordon Strachan as well as singer Sir Elton John, a noted supporter and former chairman and director of Watford.
Stelling, an unapologetic Hartlepool fan who frequently celebrated their goals on Soccer Saturday, said: "Somebody asked me the other day if I'd ever been starstruck and yeah, I was starstruck when Elton John rang me at home to say 'Thank you very much for all you've done'.
"He said 'Every week I watch the show and every week you tell me Watford are losing and every week you tell me Hartlepool are losing so I feel like we're kindred spirits'. There's something in that, isn't there?"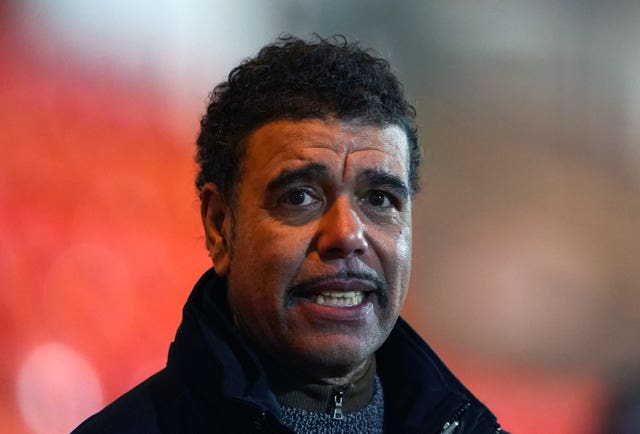 Stelling looked back fondly on his 30-plus years with Sky, in which he not only covered football but live snooker, darts, greyhound racing, pool, and thanked everyone with whom he had worked.
In his final monologue, he added: "It's been the best job that anybody could possibly have wished for. My wife takes great pleasure in saying 'You are the luckiest man ever to take a breath' and you know what? I don't tell her this often but she's right.
"The principle success of Soccer Saturday is you lot at home, who have given us unswerving support – both for the programme and for me personally.
"So that's it. Soccer Saturday will be back next season. I'll be watching – when Hartlepool are not playing. From me, goodbye."