Darren Moore wants Wednesday to embrace the moment in Wembley showdown
Sheffield Wednesday manager Darren Moore has urged his side to "embrace the moment" as the build-up to their Sky Bet League One play-off final continues.
The Owls reached Monday's final in dramatic circumstances following a remarkable comeback against Peterborough in the semi-final, which saw them overturn a four-goal deficit in the first leg to then win 5-3 on penalties.
Their victory sets up a clash against Barnsley at Wembley with promotion to the Championship the prize and Moore is looking forward to the occasion between the South Yorkshire rivals.
He told a pre-match press conference: "Having two clubs so close together, it's a Wembley final, two teams from Yorkshire competing for that final spot to get up into the Championship, it bodes well for a wonderful game.
"We're just focusing on the game, focusing on the here and now and we're looking forward to it.
"Like I said to the players, we're to embrace this moment, embrace this time, because you're embracing the moment in time not on your own.
"We have a multitude – an army – of fans with us as well as the staff, the players…it's a oneness that we've always maintained throughout the season and that's what we'll see on Monday."
Moore also recognised how special it is to play at Wembley, but stressed that he is preparing for it like "a normal game".
"These times now are to be enjoyed, embraced, remember these times because they are special times," he added.
"I said the beautiful thing about this for the players is you don't stand there alone, I don't have this as a lone figure as a manager because I feel I have a multitude that is with me.
"Players, staff, we're all in it together, so we're all approaching this together.
"My message has always been clear…to embrace this moment, enjoy the moment and within the club internally we've been planning and preparing as we would for a normal game.
"The game will quickly be upon us on Monday where we'll get to compete and contest."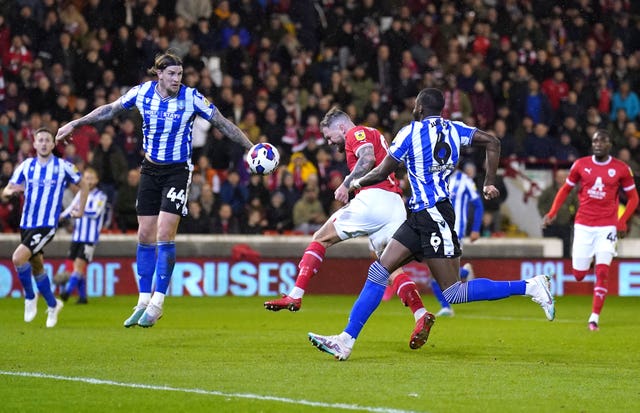 The Tykes earned a league double over the Owls in the regular season for the first time since 2009, winning 2-0 at Hillsborough in September before securing a 4-2 win in the reverse fixture in March.
Despite Barnsley's winning record against them this season, Moore is only focused on what is at stake on Monday.
"For me now what's gone on has gone on before, we forget those things now and we focus on the here and now, the present.
"That's what it is because the reason why the game's being played at Wembley, it's a final, the arena's different, the atmosphere's different, the mental side is different so it's the here and now moment to deal with the games."