Roberto Firmino would knock down Klopp door to secure start on Anfield farewell
Liverpool forward Roberto Firmino was so determined to play at his Anfield farewell he joked he would have been knocking on Jurgen Klopp's door had the manager not put him in the squad.
The Brazil international will leave the club this summer after eight years, during which time as part of arguably the best forward line in the world at its peak alongside Mohamed Salah and Sadio Mane he won the Champions League, Premier League, FA Cup, League Cup and Club World Cup.
Beloved by the Kop not just for his talent but for the joy with which he plays the game, Firmino's last home appearance was put in jeopardy by an injury which only relented this week to allow him to rejoin training.
He has done everything to get himself back into contention to face Aston Villa and admitted he would have made himself available even if he was not fit.
"If I'm not 100 per cent I would play anyway," said the 31-year-old.
"If the boss don't put me in the squad I will go (to his office)… no (joking).
"It's a special day for me, my last game at home with the fans, with the club, my team-mates.
"I try to focus on the game because it is an important game for us and after the game I will cry 100 per cent. It will be emotional for me and for my family."
Firmino is not the only one saying his goodbyes – midfielders James Milner, Alex Oxlade-Chamberlain and Naby Keita have also come to the end of their contracts – but his absence will be most keenly felt.
He has made more appearances under Klopp than any other player, having arrived a few months earlier than the German in the summer of 2015 as one of Brendan Rodgers' last signings.
Firmino was always selected for the big occasions and nearly always delivered, although his tally of 109 goals in 360 matches far from tells the story of his contribution to the side.
He was the perfect foil for Salah and Mane, who shouldered the greater goalscoring burden but were indebted to the space created and passes made by their team-mate.
"To play alongside these two guys, top players, was an honour and a pleasure for me. I enjoyed it a lot playing alongside them both and the results we earned together," he added.
"Sometimes I enjoy more the assists than actually scoring a goal myself. It's important for me. I'm always happy when I give them the ball and help them score."
But such a significant contribution only came about when he and Klopp decided to introduce the never-before-tried false-nine role.
"In the first week I was here, even I didn't know where I would be playing," Firmino said.
"I can play everywhere but me and Brendan Rodgers didn't understand each other about my position on the pitch.
"When the current manager arrived, we created a position, the false nine. After that I just enjoyed the position.
"Before, the whole time in my career I was a number 10 and then I came here and became a nine, a striker. I tried my best, and thank God it was very good.
"I say we created it together but he'd say it was me. I tell him it was together. I'm very flexible, I can play anywhere in the attack."
In Monday's victory at Leicester the travelling support serenaded Firmino with his 'Si Senor' song for a full 15 minutes even though the player was not even in the squad and sat in the stands.
He knows there will be plenty of renditions of it on Saturday and even beyond as it is something he even sings himself.
"I sang it in the car with my family two days ago. My children asked if I could put the song on so we could sing together," he said.
Firmino symbolises everything about the Klopp era: hard-working, talented and humble. When asked how he felt about being considered a 'legend' by fans he added: "I'm OK with that. What should I say? It is a privilege. That makes me happy. It is an honour.
"It was the journey we had together, what we achieved together and the trophies we brought to the club all together.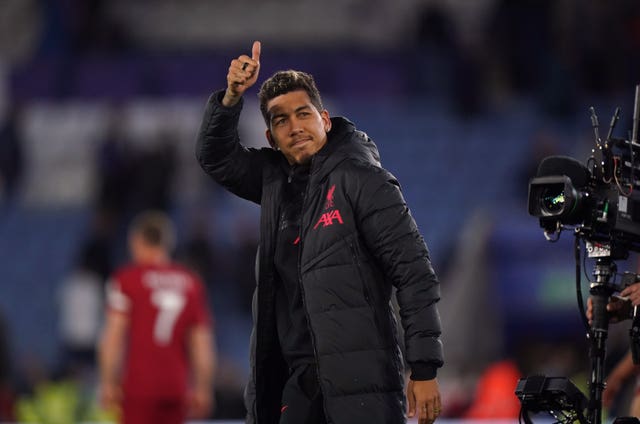 "I worked very hard to be where I am now and this is the result of my hard work every day, and with the club and my team-mates as well.
"I'm very happy to hear they would choose me as their favourite player."
Famed for always playing with a smile on his face – showing off those perma-white teeth – Firmino knows this is the right time to go, with the forward line undergoing a rejuvenation.
"The cycle here is ended and I understand it is time to go. I am very proud for the beautiful history we made together."