Jurgen Klopp hails departing quartet with special praise for Milner and Firmino
Liverpool manager Jurgen Klopp has paid tribute to the departing quartet of James Milner, Roberto Firmino, Alex Oxlade-Chamberlain and Naby Keita.
All four will leave when their contracts expire next month and are guaranteed an emotional send-off at Anfield against Aston Villa.
All leave as Champions League and Premier League winners and while Firmino and Milner, who arrived in the summer of 2015 a few months before Klopp replaced Brendan Rodgers, have played a greater role, the manager insisted all four had made significant contributions.
"We spoke already with the boys earlier this week about it," said Klopp.
"It is super-important for us and kind of super-emotional as well for different reasons because we say goodbye to, from my point of view, four Liverpool legends.
"Two of them were here when I arrived – Millie (Milner) and Bobby (Firmino) – and nothing of all the good things which happened in the last few years would have happened without them.
"Bobby, my God, how much I love the guy. It is 100 per cent deserved.
"Millie played an incredible number of games, I think I am the manager he played the most games for in his career, and probably the same for Bobby.
"My English is not good enough to really express my respect for them but that's the same for Ox (Oxlade-Chamberlain) and Naby, for different reasons.
"Ox was unlucky in moments with bad injuries in absolutely the wrong moment. I remember the (2018 Champions League game) against Roma when he got badly injured and I had no clue how to sort that situation as he was that good and pretty much irreplaceable in that moment.
"Everyone knows we spent a lot of money on Naby and there were a lot of expectations and because of injuries in the wrong moments he couldn't fulfil all of them but go back and look at the football he could play in his good moments."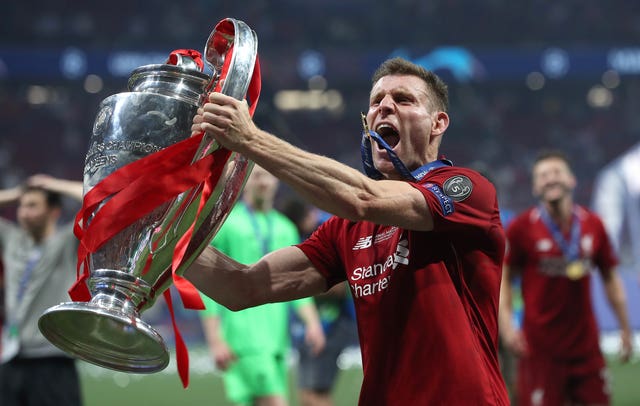 Milner has been heavily linked with a move to Brighton, but the futures of the other three are less clear, although they will not be short of offers.
Klopp added: "I wish them all well and hope they find a place where they are as much respected and needed as here and they find their luck again because they had a lot in the last few years.
"All four won pretty much each available trophy and we love them but it is professional football and nothing is forever.
"There is always a moment and it's a good moment because it means one chapter will be closed and we can start writing a new one, which is good as well for them and for us.
"I will be forever thankful to them because without them nothing would've happened. They were super-important in all they did and that's the farewell they deserve."