It's not necessary what he does – Pep Guardiola hits out at Everton's Yerry Mina
Manchester City manager Pep Guardiola was unhappy with Everton defender Yerry Mina for what he implied were underhand and unsporting tactics during their 3-0 win at Goodison Park.
The Colombia international was involved in one visible incident with Aymeric Laporte at a corner in the first half in which the City centre-back slapped his opponent in the stomach following an altercation and Mina fell to the floor.
But at the final whistle Guardiola confronted the Everton defender and remonstrated with him as he followed him off the pitch. All City's players also refused to shake Mina's hand.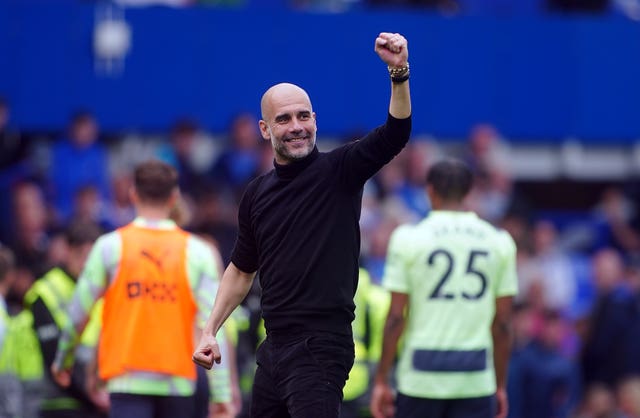 While Guardiola refused to say what Mina had actually done, his unhappiness appeared to centre on the Colombian's handling of opponents.
"Mina? It's not necessary what he does. Away from the football, it is not necessary to do what he does every single game," said Guardiola.
"And I told him, 'You are a good enough player to avoid these kind of things'."
Asked to elaborate on his complaints, the City boss added: "He knows. Ask him. This is not physical, this is not mental.
"There are things that are not necessary to do that he does. This time with Aymeric, Jack (Grealish), everybody. Ask him. Invite him to the press conference."
The row detracted from the ease with which City dealt with Everton, with Ilkay Gundogan scoring twice for the second game running either side of the obligatory goal – his 52nd of the season – from Erling Haaland.
Gundogan is out of contract in the summer and has been linked with a move to Barcelona, but Guardiola is more than happy for him to captain the side, as he did at Goodison where he led from the front with two superbly-taken goals.
"He can show again and again and again the quality and importance and his commitment, to all of us, to the club, not just scoring goals, now he has his momentum," said Guardiola, who wants the Germany international to extend his stay.
"He doesn't talk much, but when he talks everyone listens and this is the power of the leader. He show his leadership in every training session – arriving on time, living 24 hours your job and play like he is playing.
"He is a player that when he gets close to the box he has an incredible sense of goal. He can play as a holding midfielder no problem, he proved it years ago when Fernandinho was injured, he played in games like Burnley, long balls, you think you need a physical player, but he is so clever and he is a guy who handles the pressure well."
Everton manager Sean Dyche said he was unaware of any allegations against Mina and the player had not mentioned anything to him.
"If he did it all the time, I wouldn't know where he had seen it because he (Mina) hasn't been on the pitch for weeks," he said.
City's 11th successive league victory leaves them requiring a maximum of three more points for a fifth title in six seasons.
They inflicted a record 10th home league defeat of the season on Everton, who remain 17th and a point above Leeds, but of equal concern was the withdrawal of striker Dominic Calvert-Lewin at half-time.
While the England international has scored only one goal in five games since returning from two-and-half months out with a hamstring injury, he has provided a much-needed focal point and performances have improved as a result.
Dyche, who realistically has to find one win from their two remaining matches against Wolves and Bournemouth, said he took the injury-prone striker off as a precaution.
"I had to make a call because he felt his groin and tight groins can lead to damaged groins," he said.
"It would have been harder at 0-0 than 2-0. He wanted to carry on, but I said, 'Dom, you are coming off'."
On his side's display, in which they did not trouble City, he added: "A lot of the performance was right against a top side, but you get punished if you make the slightest mistake.
"We arguably had the best chance with Mason Holgate (who missed a difficult close-range opportunity at 0-0).
"There were some outstanding performances, Dwight (McNeil) was outstanding, Doucs (Abdoulaye Doucoure), Conor (Coady) came on and affected it in a change of shape (to a 5-4-1)."