Katie Zelem keen to do club and family proud with Manchester United triumph
Manchester United captain Katie Zelem is keenly aware both club and family bragging rights will be on the line when she leads out her side at Wembley for Sunday's Women's FA Cup final.
The midfielder's Women's Super League-leading Red Devils will look to unseat FA Cup holders Chelsea and claim a first major domestic trophy when they meet at the home of English football, which has sold out for the first time in the competition's history.
It was at the old Wembley where, 34 years ago, Zelem's dad Alan likes to remind his daughter he was between the posts for Macclesfield when they lost 1-0 to Telford in the FA Trophy final – a milestone the 27-year-old hopes to overtake with a win this weekend.
"He tells me this all the time. That was my dad's career highlight for sure," said Zelem. "If you ever get the chance to meet him I'm sure he'll tell you he played at Wembley in a cup final and unfortunately they got beat. So hopefully it will be a different outcome for us.
"But as soon as we made it to Wembley he texts me saying, 'you're always copying me'. Hopefully I'll be able to dig out a photo of him there and me there."
Football runs in Zelem's blood. Alan's twin brother Peter was also a professional footballer with spells at clubs including Burnley and Wolves, but it was his niece who would, in November 2021, become the Zelem who could boast she played for England.
Manchester native Katie started playing on boys' teams with Failsworth Dynamos before she was scouted by Manchester United aged eight, and she remained in their youth system before joining Liverpool in 2013 – five years before United would form their current women's side.
A spell at Juventus followed before Zelem returned to her girlhood club, where her 11 goals from 23 appearances helped earn United promotion to the WSL in their debut season.
Four years later her side remain on course for double silverware, with Chelsea – four points back in the WSL but with two games in hand – their main challengers in both competitions. A maiden Women's Champions League berth is also tantalisingly close after three consecutive fourth-placed finishes.
Zelem, who at eight was a men's Champions League flagbearer at Old Trafford, said: "Whenever anybody asks me, Manchester United always lives firmly in my heart and captaining Manchester United, making my United debut and certainly this moment will be up there with my highlights.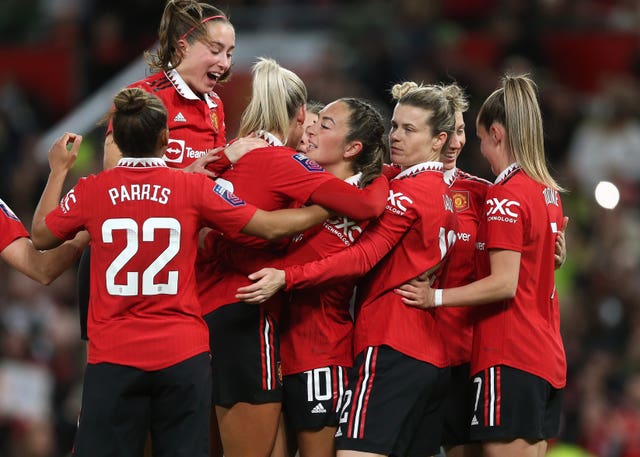 "It's a club that I've been at for a really long time now and supported my whole life and I think that's what childhood dreams are made of.
"It's crazy, really. I think even just from joining the women's team, it's been five years and it feels like it's been forever, it literally feels like the only club I've been at.
"And although it feels like forever it's flown by. I think if you look back to where we were then to where we are now it's a crazy journey. It's been a real roller coaster with ups and downs.
"We've certainly come on leaps and bounds to be honest, from being with some girls that have never played full-time or never had professional contracts to now being at this stage of the season, competing for the double, I think it's almost immeasurable.
"If in another five years we're that far advanced then Manchester United will certainly be one of the biggest teams in Europe. I'm so proud to have been a part of the whole journey."