Mikel Arteta hails Gabriel Jesus after he ends goal drought with Arsenal brace
Mikel Arteta heaped praise on Gabriel Jesus after the forward ended his goal drought with a brace in a comfortable victory over Leeds that keeps Arsenal eight points clear at the top of the Premier League.
Having required surgery on a knee injury suffered at the World Cup, Jesus' comeback has been a gradual one but it was completed just at the right time as he shone in a 4-1 win.
The Brazil forward had not scored since October but converted a first-half penalty he had won himself and then added the third goal after former Leeds loanee Ben White had doubled the lead – Rasmus Kristensen pulling a goal back for Leeds before Granit Xhaka's header secured the points.
"I'm delighted for him," said Arteta.
"They all were. We were all clapping for him. He's been working so hard for the last four or five months with a lot of support from the team and the staff.
"Today he deserved the chance to start. He grabbed the opportunity with a lot of conviction and with two goals.
"First of all the players have to feel trust, that we trust them. They need to feel that confidence.
"The players have to have the chance and they need to be preparing to perform in the right way to have the chance like Rob did and to actually perform.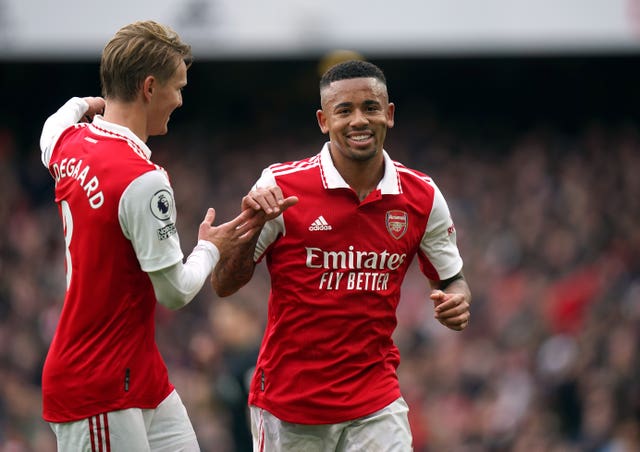 "The way they live, the way they challenge themselves is exceptional. It's not easy to do that when you just throw Rob in after a few months of inactivity at this level, but I thought he was exceptional.
"I'm really happy. We need everybody. We've had long-term injuries and the team needs to somehow find a way to keep winning and keep performing."
Leeds are now just a point clear of the relegation zone but manager Javi Gracia has faith in his players to maintain their top-flight status.
"Nobody has any doubt about the commitment and desire of my players," he said.
"They show that in all of the different performances. We will do it in the next game and I think maybe get a better result.
"I don't look at the table and the other teams. I try to be focused on ourselves and prepare for the next game. Don't waste energy on others, just ourselves."