Steve Clarke toasts upset of Spain but warns 'you don't qualify with six points'
Steve Clarke believes Scotland put their mark on their Euro 2024 qualifying group with a stunning 2-0 win over Spain at Hampden Park but cautioned against looking too far ahead.
A Scott McTominay double – after he came off the bench to score twice and clinch the 3-0 home win against Cyprus on Saturday – gave the Scots an unlikely triumph and took them top of Group A with six points from six.
The momentous result was helped further by the 1-1 draw between Norway and Georgia – June's opponents – earlier in the day.
The Scotland boss said: "You don't qualify with six points. There's a long way to go.
"We're really pleased with the performance – two good performances over the nine days we've been together.
"It was important to capitalise on the two home games as much as we could and we've managed to get maximum points.
"All the credit goes to the players. We had 16 players on the pitch and none of them let us down. The seven players in the stand were every bit as happy as everyone else was.
"We have a good group but we're working hard to get better and better and tonight was a chance to put our mark on the group.
"We wanted to be competitive against a top team and that's what we did. It certainly should give the players a bit more belief when we come up against these top seeds.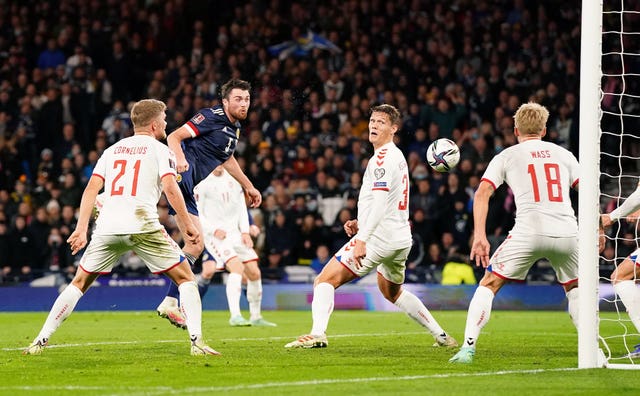 "That's the last two top seeds – Denmark (in World Cup qualifiers) and Spain – who have come to Hampden and left with no points.
"But it's very important we stay grounded because there's still a long way to go in the group."
Clarke was happy to see his side take advantage of a slip by Tottenham defender Pedro Porro to allow Scotland captain Andy Robertson to cut the ball back for McTominay to fire in the first goal.
He said: "We knew it would be a night when Spain would have a lot of the ball, so it was important that when we had the ball we had to capitalise on the moments. We did that.
"If you look at the statistics, they were very similar in terms of shots at goal, shots on target.
"We got a little bit fortunate when their defender slipped but we capitalised on the moment. It's very important that if the opposition make mistakes you capitalise on it, especially against the top sides.
"It wasn't an easy game. I have spoken to a lot of the players in there and they are very tired mentally and physically. You have to think a lot against Spain because the movement is good. The way they play is very clever.
"I think tonight was just our night so we look forward to the rematch in October."
It was a first defeat in his second game as Spain boss for Luis de la Fuente but he was not too downhearted.
He said: "The game went how we thought it would. It was a difficult game. We had a plan and stuck to it.
"In the first half we had a couple of chances to score but in the end it came down to the small details.
"Overall I'm satisfied by what I saw on the pitch. I think there is hope for the future.
"It doesn't change our overall plan. There are six games left and we are going to go for it.
"There are no easy games in this group and we have to keep on working and improving.
"It's still too early to predict who is going to win the group. Scotland have a very powerful team, good individuals. There is a long way to go and anything can happen between now and the end. I am confident in my team."