Dara O'Shea wants Republic of Ireland to write new history in France showdown
Dara O'Shea has urged the Republic of Ireland to write their own history as they prepare to head into a Euro 2024 qualifier battle with beaten World Cup finalists France.
The 24-year-old West Brom defender will approach arguably the biggest game of his career to date relishing the opportunity to lock horns with Kylian Mbappe and company on Monday evening in an attempt to add to the folklore of famous Irish victories over Italy, the Netherlands and Germany.
O'Shea said: "These are the nights we want to have as a group. We've watched back those nights as fans, some of the lads have played in those and can show their expertise and knowledge and share that with us.
"But yes, we want to write our own history. We want to go out and put a good performance in and do the country proud.
"Every game is an opportunity, but when you come up against a side that are as good as France and played in a World Cup final recently, it's a massive opportunity for ourselves.
"At the end of the day, we all want to play against the best and be the best at some stage and be the best we can be in our career, so games like these are games that the players really relish and look forward to."
O'Shea admits he watched France's thrilling World Cup final showdown with Argentina with added interest knowing he could be lining up against them at the Aviva Stadium just a few months later, but insists neither he nor his team-mates will be daunted by the task ahead.
Asked how difficult it will be to stop newly appointed skipper Mbappe, who scored a hat-trick in that game, he said: "At the end of the day, these are the best players in the world, it's going to be a tough task.
"But if we do what we do and stay concentrated – and that's the main thing, staying switched on. We can't really let up. There's no room for error in these situations so we have to give it our best.
"We're all good players at the end of the day, we're playing at a high level and if we all pull together in the same direction, I think that's going to be massive as a team.
"It's not going to take one individual to stop someone, it's a team."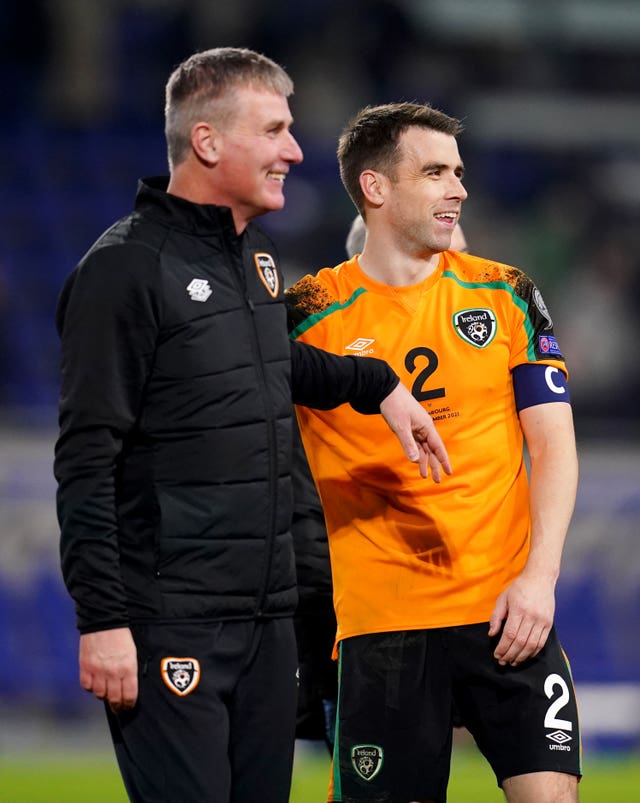 Ireland manager Stephen Kenny is keeping his fingers crossed over skipper Seamus Coleman, who was not involved in Wednesday night's 3-2 friendly victory over Latvia as a result of a thigh strain suffered during Everton's 2-2 Premier League draw at Chelsea on Saturday.
Asked about Coleman's influence, O'Shea said: "Seamus has been amazing for this country. He is a great human at the end of the day and as a footballer he has been unbelievable.
"He really is the leader in the group and instils that. He's an unbelievable player as well and so it's a great positive for us."