Liverpool look to right the wrongs in second Merseyside derby of the season
Liverpool boss Matt Beard says the pressure will be on Everton in Friday's Merseyside derby at Goodison Park, where his side will look to put "the wrongs right" from the reverse fixture at Anfield.
That match last September saw the Reds, in their second game back in the Women's Super League, beaten 3-0 by the Toffees.
Beard told a press conference: "I think we tried to prepare the team as best we could, in the sense of going to Anfield the day before, getting familiar with the dressing room, walking out on the pitch.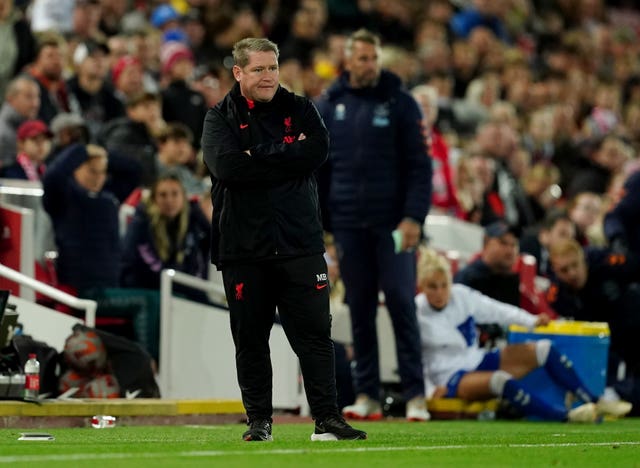 "But when you walk out to You'll Never Walk Alone at Anfield in front of 27,000, 28,000 people, it's a completely different effect than what it is at Prenton Park.
"I think you could see in the first-half performance it affected us slightly, I thought second half we did a lot better but we'd become too open at the back end of the game, trying to chase it.
"The learnings from that will live with us, because we know what we need to do on Friday night. The pressure will be reversed on to Everton, playing at Goodison. We're looking forward to the occasion.
"I think we learned a lot that night, and we're looking forward to hopefully putting the wrongs of that night right on Friday."
Beard added: "I wouldn't say (it's about) revenge. I know what this fixture means to the club and the supporters. We would love to give our supporters the bragging rights.
"Form goes out of the window in the derby games…because it is (about) the passion. I think whoever stays in control emotionally tomorrow night will end up out on top."
Liverpool and Everton are eighth and sixth in the league respectively, six points apart, heading into the fixture that kicks off Women's Football Weekend.
It is one of two derbies taking place in two days, with Tottenham hosting Arsenal on Saturday, and giant projections of players set to be involved in the games lit up buildings on Liverpool's Royal Albert Dock and Brent Cross in north London on Thursday night.
Everton boss Brian Sorensen said of Friday's contest that is set to have the team's record home attendance: "There's been a lot of hype around it. Last night I could see they're putting big pictures up on one of the buildings in the dock, which was really nice. What I've heard is it (ticket sales) has reached 20,000, so that's a good crowd.
"Liverpool will be up for the fight. It's going to be a big game with a big crowd, under the lights on a Friday night. I don't think it gets much better. Both teams will be giving everything they have to win.
"Hopefully we can do the same (as at Anfield) and the fans will be as happy. That was a special night.
"We will see probably a bit of a different Liverpool team, more aggressive than they were at Anfield, so we prepare for that.
"Can we win in the same style, same composure, everything we did that night? Hopefully the smile (from fans) is as big."
Sorensen also said goalkeeper Emily Ramsey, on loan at Everton from Manchester United, is set to be out for another four weeks with her ankle injury that saw her withdraw from England's squad last month.
Liverpool have had Jasmine Matthews, Melissa Lawley and Shanice van de Sanden back in training ahead of the game.