Changes to non-league contracts 'could see injured players lose their homes'
National League players could strike over controversial contract changes by the Football Association.
New conditions, due to come in on July 1 as part of the FA's changes to non-league player contracts, will see injured players in the National League only paid in full for 12 weeks.
If they are ill or injured longer than four months clubs will be able to reduce their wages to statutory sick pay – £99.35 a week and payable for 28 weeks – until they are fit.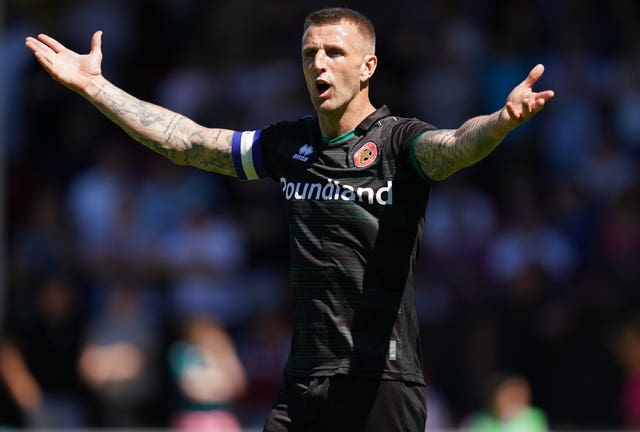 For those playing below the fifth tier they will get their full wage for six weeks.
Oldham's Peter Clarke, who is on the Professional Footballers' Association's players board, told the PA news agency. "A strike sounds very drastic. Is it something we want? I don't think so. Is it something the FA want? I don't think so either. But is it something that may happen? Quite possibly.
"I think all options have got to be explored. Hopefully the FA and the captain's group can work this out as amicably as possible. But there have been times where strikes have been necessary."
Clarke, on loan at the Latics from Walsall, also believes any pay cut will hit players mentally as they worry about paying the bills.
He said: "Mid-to-long term injuries have various impacts, there's a physical aspect, there's an emotional aspect because they live for playing games and undoubtedly it's going to have an affect on individuals mentally.
"We don't want an added worry that you're not going to be able to pay bills, that you're not going to be able to make a mortgage payment.
"The knock-on of this could be catastrophic. If they get a long-term injury players could lose their homes. That's unacceptable."
Pay cuts will automatically apply unless the individual clubs decide otherwise with players having to opt-in when signing deals.
Players also face having their contract terminated, with three months' notice, if a club-instructed medic feels they are unable to play for four months. It means those with long-term injuries like Achilles ruptures or ACL tears could be released.
The PFA has told the FA it cannot support the measures and feels they give clubs greater powers to release players.
The PFA does not represent National League players – although 80 per cent are former members having played in the EFL – so its hands are tied in terms of official measures but it has reached out to highlight the changes.
James King, the PFA's general counsel, told PA: "It's really concerning. You would think employment terms and conditions should be improving over time as a society develops. So to see something go backwards is a very unusual step. We had hoped for an improved position in the contract, not worse.
"We feel like there's a misunderstanding of the position a significant number of these guys are in and the fact this is their livelihood, their mortgages are at stake. They're their family's support in a really challenging economic time.
"We hope the FA will listen to the players' views and think again. Just to hammer the point home we had warned the FA we would have to inform the players of the changes and we didn't think it would be happily accepted.
"To have their rights diminished in this way has struck a nerve."
The union has also alerted EFL players as many could sign deals with National League clubs in the summer while two teams will be relegated from League Two.
PFA members are understood to be unhappy at what is happening, with many having friends in non-league, while there is a concern it could start the gradual erosion of players' rights under the cover of financial sustainability.
A statement from an FA spokesperson read: "Following a period of consultation with the relevant stakeholders, we have updated the standard form non-league contract in order to better reflect current employment legislation and to provide each party with greater certainty in this area.
"In doing so, we have sought to balance the interests of both clubs and players."