Gareth Southgate tells England not to take Euro 2024 qualification for granted
Gareth Southgate warned his players not to take European Championship qualification for granted on the eve of England's opener against reigning champions Italy.
England return to action at the Stadio Diego Armando Maradona on Thursday, 103 days on from their disappointing loss to eventual runners-up France in the World Cup quarter-finals.
Southgate considered his future after that disappointment but pledged to coach through to next summer's Euros, with England kicking off qualification for the tournament in Germany at Euro 2020 final foes Italy.
The manager is looking for his 50th win in charge and held a meeting before the trip to Naples where he told his players to reset and refocus on qualification.
"They've been involved in some of the biggest matches in world football and they know the level that's required, they know they have the ability to compete at that level," Southgate said.
"Then the fact that whatever we've done in the past is irrelevant tomorrow night because we have to start again.
"We have to have the humility to work hard to qualify again and it's a great fixture for us to get that under way."
Put to Southgate that European champions Italy's failure to qualify for the World Cup could act as a warning that qualification cannot be taken for granted, he said: "Without a doubt.
"I think what we did really well after the Euros was our first game away in Hungary – we gave one of our best performances, I think. Our mentality from the start was really, really good.
"I don't expect that mentality to be a problem but it's a reminder that these early stages of qualifying are crucial.
"I can remember us scoring a late goal against Poland at Wembley with no fans and people would have taken that victory for granted but it was such an important moment in qualifying.
"We had several of those in our previous qualification campaigns.
"So, although some of those groups looked comfortable in the end, there were plenty of nights where that wasn't the case."
England kick off Group C with arguably their two hardest fixtures, with Thursday's trip to Italy followed by a Wembley clash against Euro 2020 quarter-final opponents Ukraine on Sunday.
Winning both matches would see them take a giant stride towards next summer's finals in Germany, with Southgate challenging his group to secure England's first win away to Italy since 1961.
"In a nutshell it's the sort of challenge that we've got to take on and the type of game we have got to start winning," he said. "We have over a period but we've got to now consistently try to do that.
"That said, we haven't won here since 1961 so it's also another bit of history that we are trying to break down.
"That is a great challenge for this team because they have knocked down so many of those barriers in the past.
"I know Italy didn't qualify for the World Cup, but they still have some outstanding players and they are going to have high motivation as well, so it is going to be a fabulous game."
Captain Harry Kane could make history in his first international match since his penalty miss against France.
The Tottenham striker joined Wayne Rooney as the only man to score 53 goals for the national team by scoring his first spot-kick, but his miss later that night saw him pass up the chance to break the record as England bowed out.
"We've seen that mentally in his performances and his goalscoring with his club; he has put it behind him," Southgate said of Kane.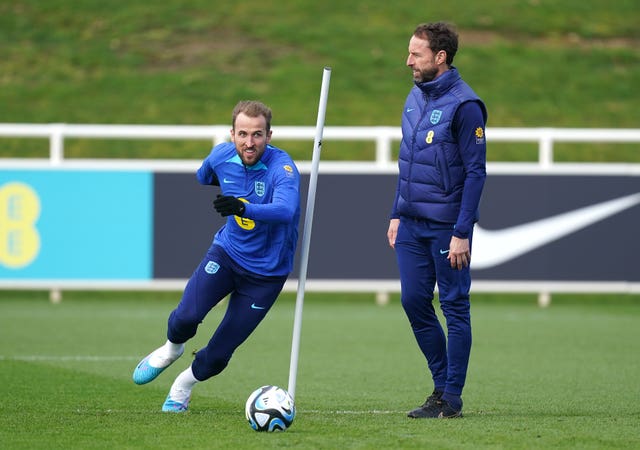 "But I know he is going to have added motivation tomorrow night to come back and show everybody what he's about again in an England shirt, so, for us, that's a good position.
"Of course it's always difficult to compare across ages. There are a lot that I didn't see because I wasn't alive but because of the goalscoring record alone, that puts him in the upper echelons of that group (of great England players).
"He provides so much more for the team than just that – his quality of passing, his vision, his touch.
"He is an outstanding player and we are very, very fortunate to have him."