England boss Gareth Southgate hopes qualifier in Naples passes without incident
England boss Gareth Southgate is excited to be in Naples and hopes the match against Italy passes without incident given some fan safety concerns.
Around 41,000 are expected at the cavernous Stadio Diego Armando Maradona as European qualification gets under way on Thursday evening.
Supporters of England and Italy had been due to play a friendly ahead of the Group C opener, only for a threatening email purporting to be from Napoli ultras to see it cancelled.
Southgate last week said "it's for the Italian FA to decide where they play their games", adding the Football Association would "try to make the travelling experience as smooth as possible for our fans".
Asked again about the decision to play in Naples in the wake of the fan game being cancelled, Southgate said: "I think everybody is looking forward to the experience of coming to Naples.
"Personally, I am exciting about playing in a city that loves football, with a great history.
"To come here when I can just about remember Maradona when they won the league, and Careca, so I'm excited about that from the football side.
"Always we ask our fans to be good tourists and respect the local culture.
"We hope the game and the next couple of days passes with no problems."
Pushed on whether he would have preferred the match was held elsewhere, Southgate said: "No, I am excited to be coming here.
"I've never been to Naples before and that history of football here is really rich.
"The club team at the moment is absolutely flying. They're a fantastic team, they're going to win the league and they have got a really good draw in the Champions League, so I think they are going to be very close to winning that as well."
Liverpool told fans heading to their Champions League opener at Napoli in September to stay in their hotels and away from the city centre as they could be targeted for "theft, robbery, or assault".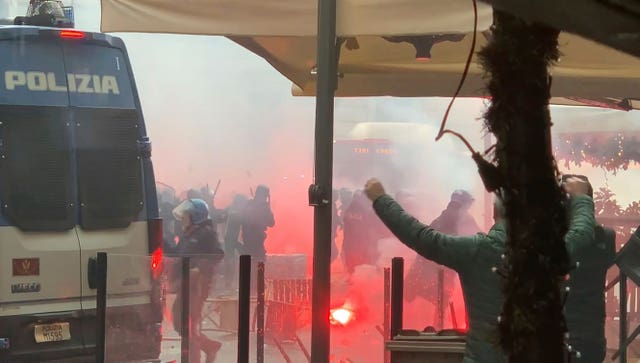 Last week there were clashes between Napoli and Frankfurt fans before and after their Champions League tie in the city.
Italy boss Roberto Mancini said: "I don't work for the police force if I'm quite honest.
"But it's always been actually the away fans that have come here and have caused problems typically and we saw that in the Champions League.
"So, I think if people come here and behave correctly, I don't think there should be too many issues on that score.
"But we need to think of footballing matters, what happens on the pitch.
"We hope that nothing comes to pass because football should be a celebration for everyone."
Swarms of police waited to speak to England fans upon arrival at the airport in Naples, where the standard ticket collection point was scrapped in favour of e-tickets.
The FA has confirmed there would be 23 coaches ferrying England supporters from Stazione Marittima Napoli to within 100 yards of the ground on Thursday, where they will be dropped off after the match.
The governing body told fans: "To assist with the safety and security of all England travelling supporters, the Italian Police have requested and are strongly advising that England supporters use locally-organised coach transport to travel to the stadium."
Gaetano Manfredi, mayor of Naples, extended a hand of friendship to English visitors on the eve of the game.
"Welcome all of our friends who have come from England," he said. "We have historic ties between Naples and England, ties of friendship, which has gone on for several centuries.
"We are very happy that this return of Italy to Naples has coincided with the game against England.
"We think it will be a wonderful occasion for sport, we think it will be a wonderful evening's entertainment.
"But we also think it's an opportunity for a friendship for these two countries that are very close to one another in an international city such as Naples."