We will see – Manchester United loanee Marcel Sabitzer unsure about the future
Marcel Sabitzer is making no predictions over his Manchester United future after getting his first goal for the club in their come-from-behind FA Cup quarter-final victory over Fulham.
The Cottagers' second-half meltdown, in which referee Chris Kavanagh showed three red cards in 40 seconds to dismiss manager Marco Silva, Willian and goalscorer Aleksandr Mitrovic, was the story of United's 3-1 win, meaning Sabitzer's first Old Trafford strike was slightly lost in the furore.
But it was Sabitzer who gave United the lead, flicking home a low Luke Shaw cross from close range, only two minutes after Bruno Fernandes had levelled from the penalty spot, with Fernandes' stoppage-time strike merely adding gloss against Fulham's nine men.
"It's massive, a big win," on-loan Bayern Munich midfielder Sabitzer said. "We're very happy, but it was a hard game. Fulham are a tough opponent, good team, good players. We are very happy with the result.
"I was just hoping Luke (Shaw) would play me this ball. I tried to hit it with my left one, and I am very proud and a happy moment."
The 29-year-old Austrian joined United on loan from Bayern late on deadline day as Erik ten Hag sought cover for the injured Christian Eriksen.
Sunday was his ninth United appearance in all competitions, and he has already collected a Carabao Cup winners' medal.
Asked about his future beyond this season, Sabitzer said: "I had to make a quick decision (to join) in January. I was focused on this, it was clear it is just a loan until the summer.
"I take every game as it comes, I am very happy to be here. I will give 100 per cent. Whatever happens in the summer, we will see…
"I can play all over midfield, I think. I like to do the dirty work. I like to run, to go forward, box-to-box movements. A lot of transitions and high-intensity games are what I am having here.
"I am very happy to be part of this team, this amazing club, and I feel very welcomed. I am very happy at the moment."
United will face Brighton in the last four with the prospect of a Manchester derby looming after City were drawn against Championship Sheffield United in the other semi-final.
It keeps them competing on four fronts, something that has created a relentless run of fixtures but one that Ten Hag feels is benefitting his players.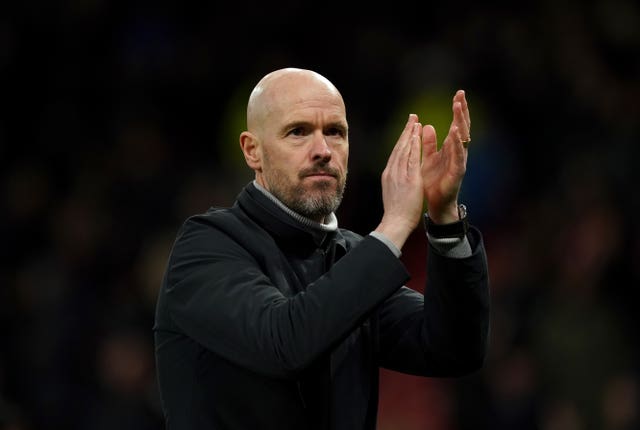 "One thing is important – don't think too far ahead," the Dutchman said. "Go from game to game, but I think we had a really massive run from Christmas on, 25 games or so. I think two defeats, (four) draws and a lot of wins.
"We see the progress in the team, but this team has a strong character, strong belief, strong determination to win games. (Sunday) was an example of it. When you have a difficult period in a game, stay in a game and turn the game.
"I think we are in the position we want to be in. We battle for it, we deserve it, but trophies are won in the end of the season and we are in the position to win trophies, but we have to fight for it.
"We need the whole squad because we already played from Christmas on every three or four days and that will continue. That is what we love, it will give us energy when we can compete for trophies."