Ian Baraclough 'no regrets' over Northern Ireland job as he eyes football return
Ian Baraclough remains philosophical as he reflects on his Northern Ireland exit.
The former boss has had five months to think about leaving Windsor Park. It makes it no less painful but, as his adopted nation begin life without him this week, there are no regrets for the Englishman.
Northern Ireland start their Euro 2024 qualifying campaign against San Marino and Finland with Michael O'Neill again in charge after Baraclough was sacked in October, 28 months after initially replacing O'Neill.
The dismissal came less than a year after he signed a fresh two-year deal but there is little Baraclough, promoted from the Under-21s in June 2020 after O'Neill's move to Stoke, would have done differently.
"I like to keep things in perspective. That's why I've got no regrets because I did things the way I thought was right," he told the PA news agency.
"The Euros and World Cup qualifications were the things I was always to be judged on so I've no regrets on that and I'm a better head coach for it.
"You've got to be true to yourself, otherwise you'll look back in later life and think, 'why didn't I?'
"Getting sacked took me by surprise, the timing, but when I look back now maybe it shouldn't have.
"In hindsight, I maybe should have looked at that a little bit closer and thought 'well, OK, Northern Ireland have got a favourable (Euros) draw and Michael's available.'
"Do I feel hard done by? It's out of my hands and they've taken the option to head hunt Michael, who would have always wanted to take the job.
"If you were to speak to 90 per cent of managers – maybe more – they would all feel they'd been harshly treated. But Northern Irish football is in a good place for the future and I felt I played a part in that."
Baraclough, just the second Englishman to take the job after Lawrie McMenemy, lost 14 of his 28 games in charge but was told he would be judged on his World Cup and European Championship qualifiers – rather than the Nations League.
Indeed, Northern Ireland were a game away from Euro 2020 only to lose their play-off final 2-1 to Slovakia in extra time in November 2020.
Baraclough's reign ended last October after narrowly avoiding relegation to the bottom tier of the Nations League, finishing third behind Greece and Kosovo in C2.
Yet that fails to tell the whole story having come third behind Italy and Switzerland – drawing 0-0 with both in Belfast – in their World Cup qualification group.
The former Scunthorpe, Sligo and Motherwell boss felt his side was making progress, fulfilling his brief having brought youngsters like Manchester City's Shea Charles, Huddersfield defender Brodie Spencer and Forest Green midfielder Charlie McCann into the senior squad.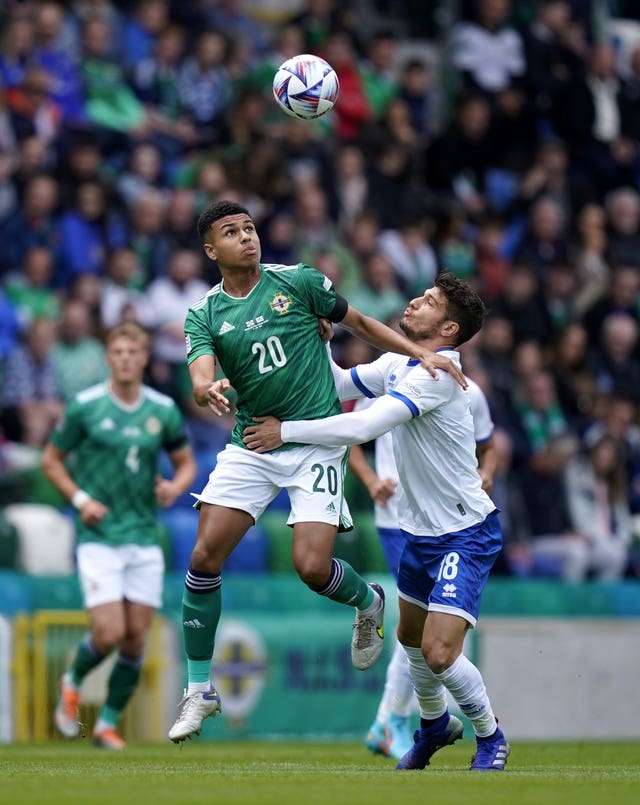 That they could not replicate the success of reaching Euro 2016 under O'Neill did not come as a surprise to Baraclough, who feels any belief it would continue was unrealistic.
"I think everyone expects with every campaign there'll be a play-off, at least, at the end of it," he says, at a hotel on the outskirts of hometown Leicester.
"I looked at the other home nation squads. Wales have achieved remarkable things with the players they've got but the majority of them were playing either in the Premier League or the Championship and Gareth Bale was in a different stratosphere.
"Scotland, nearly every player was playing either in the Scottish Premier League or English Premier League, the Republic of Ireland were similar – Premier League and Championship players.
"Northern Ireland have punched above their weight. That expectation level is probably not fair, to go and qualify every time.
"That's something you have to go and work against and use to your benefit with the players – you're always trying to prove people wrong.
"I think the Nations League is generally regarded as glorified friendlies. I didn't say it while I was manager, I don't think you can do when you're signed up, but I think they are because it's a chance to try new players.
"Northern Ireland can't win all the time if they're not at full strength. It's the crux of it really."
Baraclough has enjoyed his time out, going skiing for the first time in Andorra in January – even if his shoulder is still sore now – spending time with his four daughters and watching at least two games a week.
He is also preparing to enrol in Manchester Metropolitan University's Master of Sport Directorship course in September.
The ex-QPR and Notts County defender is ready to return, though. He was ready the day after he left.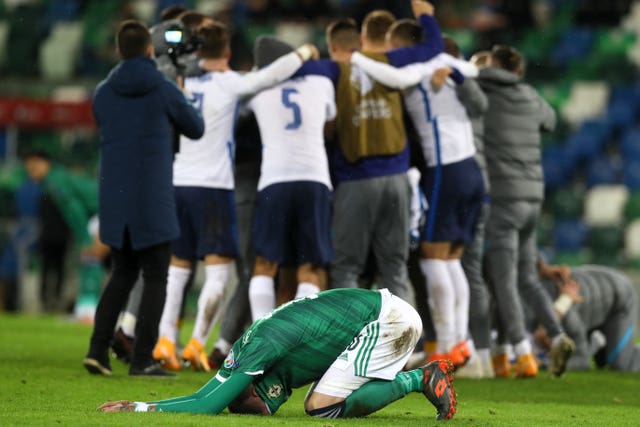 "I have no divine right to be linked with a club in whatever division, you're up against good people. It's not just me out of work at the moment, a lot of people are," he said.
"I've spoken to a few chairmen and CEOs and it's not quite been right for whatever reason. I've been looking at the Championship, League One and Two to keep my own sanity and doing dossiers on clubs. That's part of my job. You may get a phone call tomorrow."
The 52-year-old is not dwelling, yet there is a hint of sadness at not being able to see the job through, especially when Northern Ireland resume at San Marino's Stadio Olimpico on Thursday without him.
"That's why I'm unsure whether I'll watch or not," he adds.
"The way we were building things was, in my mind, the right thing to do. There are no regrets, just a disappointment it didn't go further."