Aleksandar Mitrovic, Marco Silva and Fulham charged after FA Cup meltdown
Aleksandar Mitrovic is facing a lengthy ban after the Football Association announced the standard punishment for his dismissal against Manchester United would be "clearly insufficient".
Mitrovic gave Fulham the lead in Sunday's FA Cup quarter-final at Old Trafford but was sent off after trying to grab referee Chris Kavanagh's arm during a chaotic couple of minutes.
Willian and head coach Marco Silva were also given their marching orders during that period but it is the conduct of Mitrovic in Fulham's 3-1 defeat that has come under particular scrutiny.
Fulham have been charged by the FA with failing to "ensure its players conducted themselves in an orderly fashion", while Silva has been accused of several misdemeanours.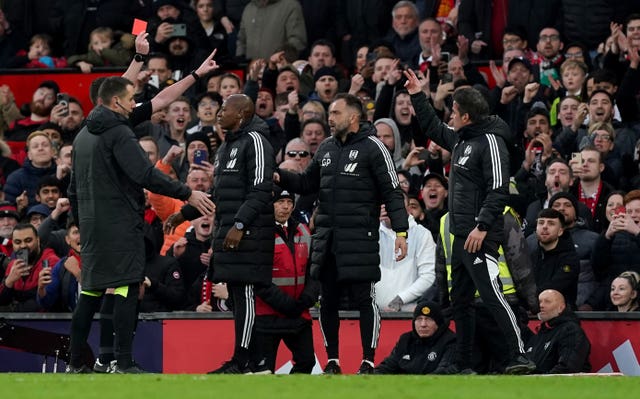 On Mitrovic, the governing body said: "The FA has claimed that the standard punishment which would otherwise apply to Aleksandar Mitrovic for the sending-off offence of violent conduct that he committed towards the match referee is clearly insufficient.
"In addition, Aleksandar Mitrovic's behaviour and/or language was allegedly improper and/or abusive and/or insulting and/or threatening following his dismissal."
On Silva, the FA added: "It's alleged that Marco Silva used ausive and/or insulting words and/or gestures and/or behaviour towards the match referee; that he used abusive and/or insulting words towards the fourth official prior to his dismissal; and that he also used abusive and/or insulting words and/or gestures and/or behaviour towards the fourth official after being sent off.
"It's further alleged that in throwing a water bottle in the direction of the assistant referee that his behaviour was improper."