FA: Standard punishment for Aleksandar Mitrovic dismissal 'clearly insufficient'
Aleksandar Mitrovic is facing a lengthy ban after the Football Association announced the standard punishment for his dismissal against Manchester United would be "clearly insufficient".
Mitrovic has been charged with violent conduct after trying to grab referee Chris Kavanagh's arm during a frenzied few minutes in Fulham's 3-1 FA Cup quarter-final defeat at Manchester United on Sunday.
Fellow forward Willian was given his marching orders for handling the ball on the line while Cottagers head coach Marco Silva saw red, too, and the Portuguese and Fulham have also been hit with FA charges.
It is the conduct of Mitrovic which came under particular scrutiny after his attempt to touch Kavanagh, although the incident was far less dramatic than when Paolo Di Canio got an 11-game ban for pushing Paul Alcock to the ground in 1998.
Silva said afterwards he did not expect anything out of the ordinary for Mitrovic but the FA feels any normal disciplinary measure in this case would be inadequate.
A statement read: "The FA has claimed that the standard punishment which would otherwise apply to Aleksandar Mitrovic for the sending off offence of violent conduct that he committed towards the match referee is clearly insufficient.
"In addition, Aleksandar Mitrovic's behaviour and/or language was allegedly improper and/or abusive and/or insulting and/or threatening following his dismissal."
Mitrovic gave Fulham the lead at the weekend but, with a little more than 20 minutes to go, Willian clearly blocked Jadon Sancho's goalbound shot on the line with his arm.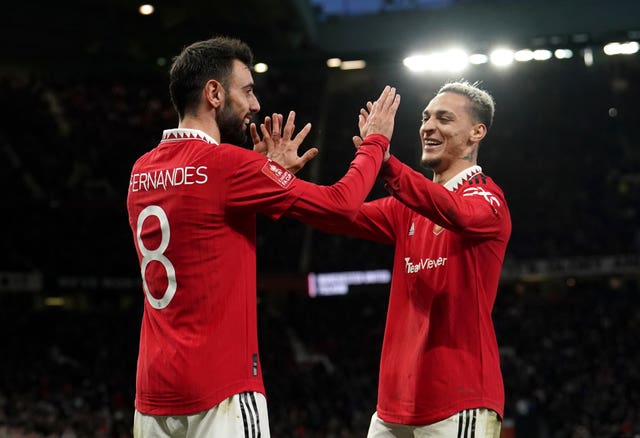 Kavanagh initially signalled for a corner but was sent by VAR Neil Swarbrick to the screen, where he dismissed a protesting Silva before awarding a penalty and sending off Willian and then an incandescent Mitrovic – with only 40 seconds separating the three red cards.
The FA statement added: "It's alleged that Marco Silva used abusive and/or insulting words and/or gestures and/or behaviour towards the match referee; that he used abusive and/or insulting words towards the fourth official prior to his dismissal; and that he also used abusive and/or insulting words and/or gestures and/or behaviour towards the fourth official after being sent off.
"It's further alleged that in throwing a water bottle in the direction of the assistant referee that his behaviour was improper.
"It's also alleged Fulham failed to ensure its players conducted themselves in an orderly fashion."
United punished Fulham's meltdown as Bruno Fernandes scored from the penalty spot two minutes before Marcel Sabitzer's first United goal completed the turnaround, with Fernandes rounding off the win in stoppage time.