Aleksander Ceferin apologises for chaotic scenes at Paris Champions League final
UEFA president Aleksander Ceferin has apologised for the chaotic scenes at last season's Champions League final and expressed his relief "nothing terrible happened" in Paris.
An independent report published last month found European football's governing body was primary responsible for serious congestion problems outside the Stade de France.
Thousands of Liverpool fans were penned in against perimeter fences and tear-gassed by police trying to alleviate further problems after a decision was made to close turnstile gates ahead of Real Madrid's 1-0 win over Liverpool.
Liverpool fans are set to have their tickets refunded and UEFA's general secretary Theodore Theodoridis has apologised to those affected by events in Paris.
But Ceferin, speaking in an interview on Gary Neville's The Overlap channel, said: "First of all I can say that I feel sorry for what happened and we will make sure that it doesn't happen anymore. That's the most important thing for me.
"When I was at the match, I remember I had a meeting with the King of Spain and my people came into the room and said, 'something urgent had happened'. I went out and they say there is a problem with an entrance or some entrances for the fans. Nothing else.
"We didn't know how serious that was back then because UEFA does not have jurisdiction outside the stadium. There is French police and they didn't communicate with us.
"It was a difficult situation and look, trust me there is not a single person in UEFA who is not terribly sorry that those things happen. Probably this is the main topic at UEFA how to make sure it doesn't happen again."
Legal action is being pursued by Liverpool fans over what happened in Paris, where supporters were initially blamed by UEFA for delaying kick-off by arriving late while French officials also claimed thousands of tickets had been forged.
These were "manifestly inaccurate" according to the independent report.
"That was a mistake, that was a mistake from our side but it was hard to check what was right and what was wrong. We got so strange information and I really didn't know the scale of the thing that happened," Ceferin said.
"I am still expecting feedback from the experts we have that are dealing with it.
"Me as president of UEFA, I don't deal with organisation of the match but we have to have better communication with the local authorities because in London (at the Euro 2021 final) again it was not UEFA who should protect outside the stadium, it was local police and, obviously, not very successful."
Ceferin insisted it was "too early" to decide if people will lose their jobs over the farcical scenes in Paris but promised lessons would be learned for next year's Champions League final at Wembley.
He added: "We'll try to speak with the local authorities more and they learn a lot as well.
"They would understand and wouldn't underestimate the situation. We have a team there all the time and they report. Thank God nothing terrible happened."
Ceferin also reflected on the European Super League saga from 2021 with ex-Manchester United captain Neville.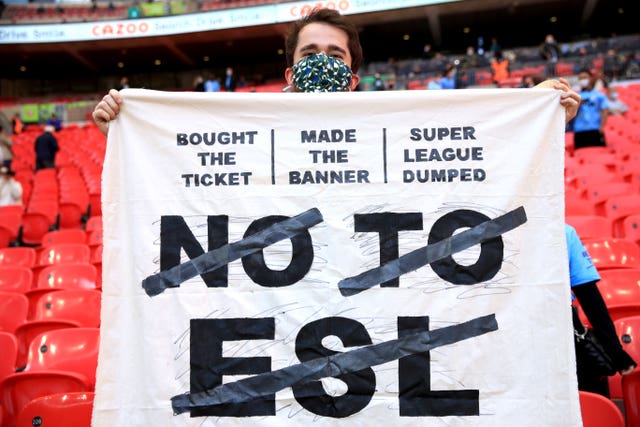 He alleged United and Liverpool were the English clubs most powerful in joining the breakaway league, which collapsed within 72 hours after all 'Big Six' members eventually pulled out.
"As much as I know, unfortunately your club, the (United) owners were very much involved and Liverpool as well," Ceferin said.
"I think that those two were from the English side the most. The last joining were Chelsea and (Manchester) City. I'm not so sure about Tottenham and Arsenal. Both Chelsea and Manchester City were hesitant from the beginning."
On the possibility of the European Super League being revived by founding members Real Madrid, Barcelona and Juventus, Ceferin insisted: "I say play your Super League.
"You are three, you can play your Super League. No one cares. Football doesn't want them."