Lewes call for equal prize money for women's FA Cup
Championship side Lewes have written an open letter calling for equal prize money in the men's and women's FA Cup.
They are due to play in the quarter-final of the women's FA Cup on Sunday against Women's Super League title contenders Manchester United.
Lewes progressed to the final eight after beating Cardiff Ladies 6-1 in February and have so far earned £45,000 in prize money after winning three games, compared to the £450,000 earned by men's teams who enter in the competition's third round.
The issue of prize money in the women's FA Cup has been raised previously, and money earned in the women's tournament increased to just under £3m last year, but the men's prize pot also increased from £15.9m to £19.8m.
The letter was addressed to former England midfielder Karen Carney, who has been commissioned by the government to look at the standards of the women's professional game across the football pyramid.
"We want an #EqualFACup with equal prize money for men and women," the letter said.
"Our progress in this season's FA Cup has so far earned us £45,000 in prize money, incomparable to the £450,000 our male counterparts would have earned.
"As concerningly, the prize gap is getting bigger. The women's FA Cup prize fund increased to £3million this year, but the men's increased by close to £4million.
"Every season, female players up and down the football pyramid invest more time and personal resources into football. These are the demands of the growing game which are reflected in the constantly improving standard and product of women's football.
"We are proud to drive the game forward, but we ask for fair reward.
"Sharing the total combined prize fund equally between men and women has the power to be transformative in the women's game.
"It would allow clubs to invest more funds in player wages, facilities, equipment, medical care, staffing, travel costs and everything the women's football pyramid needs to thrive and grow.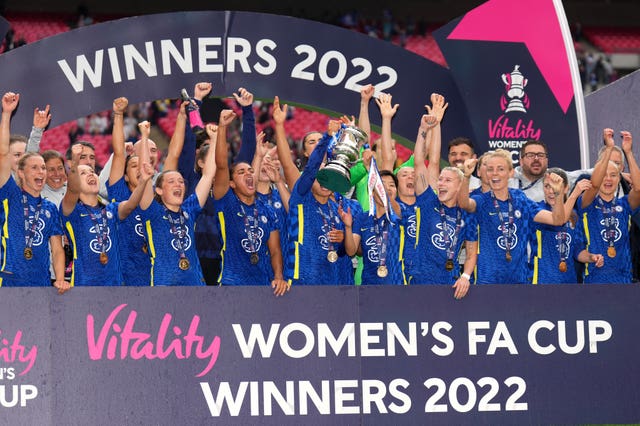 "Put simply, it will allow us to focus on football.
"Karen, your review has the power to positively change women's football for our generation and the next. Therefore we ask that your recommendations address the gender inequality in English football's greatest prize.
"Keep the magic – just make it equal."
The PA news agency has contacted the Football Association for comment.