Raphael Varane believes Man Utd must find a new balance with Casemiro banned
Raphael Varane says Manchester United will need to find a way of bringing balance to the team as key midfielder Casemiro serves a four-match domestic ban.
Just five weeks after his contentious sending off against Crystal Palace, the 31-year-old looked crestfallen when shown his second red card in just three Premier League appearances.
Initially booked for a challenge that ended up with his boot on Southampton midfielder Carlos Alcaraz's shin, it was upgraded to red after the VAR recommended Anthony Taylor reviewed the decision.
Erik ten Hag raged about inconsistent officiating after the hard-fought 0-0 draw, with Casemiro now ruled out for Sunday's FA Cup quarter-final against Fulham and United's next three league games.
"He's a player who's very important for us," said United defender Varane, who knows the Brazil international better than anyone after their time together at Real Madrid.
"He brings balance to the team and to the squad, but we have a great squad and we have to find another balance without him.
"But we have good players in every position on the pitch and we're ready for the next games.
"I think he was very disappointed because nobody wants to get out of the pitch before the end but as I say it's part of football. It was obviously very disappointing but we can focus on the next games and that's it."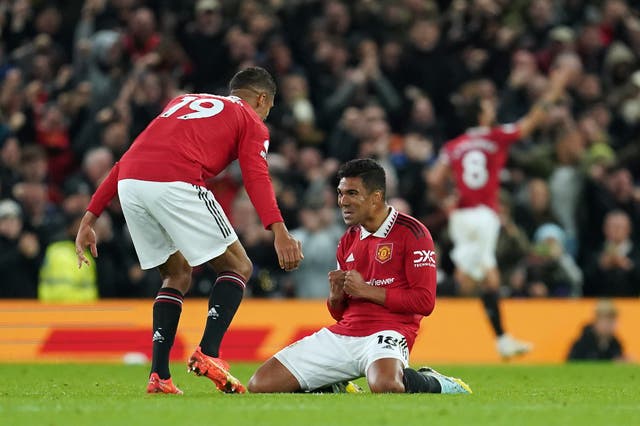 Asked for his opinion on Casemiro's sending off, the former France defender said: "I think about decisions by the referee I keep my opinions to myself.
"We can't be happy with the decision he takes but that's part of football."
United said on Monday they would not appeal against Casemiro's red card, saying "the club decided there was not a high chance of being able to overturn the ban on appeal".
Varane's frustration at the circumstances and result on Sunday was palpable, as was his pride in the way the group fought together just a week on from the 7-0 loss at Liverpool.
"I think it's frustrating," he said of the result. "Happy with the mentality, the fighting spirit.
"The team fought as a group and that's the positive point for today.
"We knew we needed to run a little bit more, to be a bit more defensive but we reacted as a team, as a group and with a good mentality.
"We fight for each other. The crowd as well. We feel the support. I think we can be proud of the fighting spirit, obviously disappointed by the result but great teamwork today."
Sunday's match was the Red Devils' last Premier League action this month as attention turns to cup competitions before the international break.
United face Real Betis on Thursday boasting a 4-1 advantage from the first leg of their Europa League last-16 tie, before Fulham arrive at Old Trafford for Sunday's FA Cup quarter-final.
"I think if you take (away) the game against Liverpool, we were in a good moment and good results so we have to keep the confidence," Varane said.
"Obviously we want a good result to keep the rhythm. I think the winning mentality is here in this group. We want to win every game so we have to fight and be ready for Thursday."
Ten Hag will surely be tempted to rotate in Spain given their three-goal cushion, although it is unclear whether Alejandro Garnacho will be available.
The 18-year-old left Old Trafford on crutches with his right foot in a protective boot following a challenge by Kyle Walker-Peters, although his manager downplayed concerns over the exciting Argentinian.
"I think they have great talent, you saw it today," Varane said of Garnacho and fellow youngster Facundo Pellistri.
"They can bring speed on the pitch, they can create opportunities, create danger.
"We need these kind of players to make the difference and change games."
As for relegation-threatened Southampton, Ruben Selles' side need to build on Sunday's point in this week's vital Premier League double-header at home to Brentford and Tottenham.
Saints centre-back Jan Bednarek said: "We're really confident in our manager. We really trust each other at the moment, if we do what our manager says we can win games, get clean sheets, we can give joy to our fans.
"Let's take a point, let's take a clean sheet and build on that.
"We have another game on Wednesday and we have to recover and build from this clean sheet. The only bit we have to sort is to be a little bit more clinical in the opposition box."