No presenter or pundits for Saturday's Match Of The Day amid Gary Lineker row
Saturday's Match Of The Day will "focus on match action without studio presentation or punditry" after several former footballers pulled out of the show.
Alan Shearer and Ian Wright announced on Friday their boycott following the BBC saying it had "decided" Gary Lineker would take a break from presenting the highlights programme until an "agreed and clear position" on his use of social media had been reached.
In response to them not appearing, a BBC spokesperson said: "Some of our pundits have said that they don't wish to appear on the programme while we seek to resolve the situation with Gary.
"We understand their position and we have decided that the programme will focus on match action without studio presentation or punditry."
The PA news agency understands the Professional Footballers' Association will fully support any players who do not want to fulfil media duties with the BBC after Premier League matches in solidarity with Lineker and the other pundits – all of them former England international players.
A number of players contacted the PFA seeking advice, and the union has subsequently spoken to Premier League clubs to establish a collective position.
Lineker, 62, has been embroiled in a row over impartiality after comparing the language used to launch a new Government asylum policy with 1930s Germany on Twitter.
Earlier, director-general at the BBC Tim Davie – who warned staff about their use of social media when he took on the role at the end of 2020 before guidelines on their use was updated – was asked by BBC News why Lineker had not been sacked.
He replied: "Well I think we always look to take proportionate action and that's what we've done."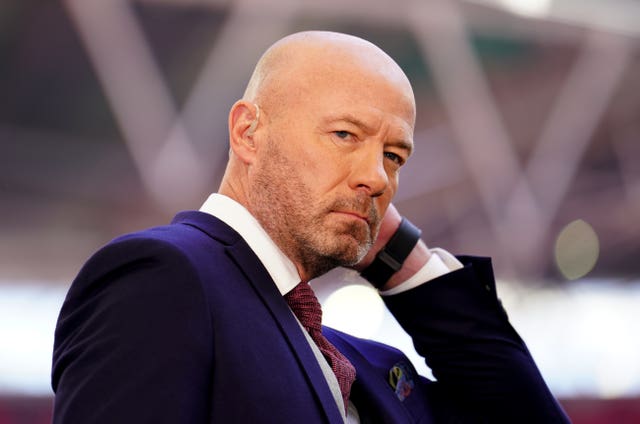 Davie said he would not "add to" the corporation's current statement on the matter, but that there had been "very constructive discussions".
Reacting to Shearer and Wright's boycott, the BBC boss added: "I absolutely respect people's right to make that decision, and BBC Sport have to look at the programme they will produce for the weekend as normal."
Announcing the decision regarding Lineker on Friday, a spokesperson for the BBC said the broadcaster had been "in extensive discussions with Gary and his team in recent days. We have said that we consider his recent social media activity to be a breach of our guidelines.
"The BBC has decided that he will step back from presenting Match Of The Day until we've got an agreed and clear position on his use of social media.
"When it comes to leading our football and sports coverage, Gary is second to none.
"We have never said that Gary should be an opinion-free zone, or that he can't have a view on issues that matter to him, but we have said that he should keep well away from taking sides on party political issues or political controversies."
The row was sparked by Lineker's response on Twitter to a Home Office video in which Home Secretary Suella Braverman unveiled the Government's plans to stop migrants crossing the Channel on small boats.
He wrote: "There is no huge influx. We take far fewer refugees than other major European countries.
"This is just an immeasurably cruel policy directed at the most vulnerable people in language that is not dissimilar to that used by Germany in the '30s."
It is the latest controversy to hit the corporation after its chairman, Richard Sharp, became embroiled in a cronyism row over him helping Boris Johnson secure an £800,000 loan facility.
Current BBC guidelines state staff need to follow editorial guidelines and editorial oversight on social media in the same way as when doing content.
Lineker is a freelance broadcaster for the BBC, not a permanent member of staff, and is not responsible for news or political content so does not need to adhere to the same rules on impartiality.