Wife of Dave Watson 'cannot fathom' rejection of temporary concussion subs
The rejection of temporary concussion substitutes has dumbfounded the wife of former England international Dave Watson, who is living with dementia.
The International Football Association Board (IFAB) confirmed on Saturday that the trial of temporary concussion substitutes in the Premier League, France's Ligue 1 and Major League Soccer in the United States had not been approved.
A number of former players are living with the impact of head trauma, including ex-England defender Watson.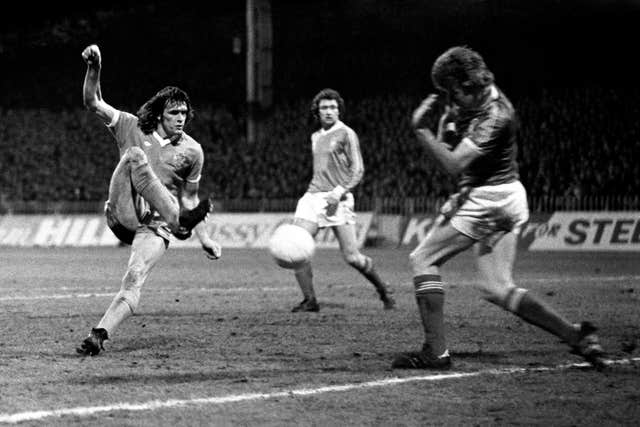 It is three years since wife Penny released a statement revealing he had a neurodegenerative disease that was "most likely" brought on by head injuries and repeated heading of the ball during his playing days.
Penny Watson has pushed for support and change ever since the former Sunderland and Manchester City player's diagnosis, with the IFAB's inaction on this matter infuriating her.
"I don't know whether it's ostrich head in the sand, ignorance or just protectionism because they're worried about financial implications, I cannot fathom it," she told the PA news agency.
"I cannot understand why they threw out a temporary concussion substitute for players.
"I can't understand it because it means that they can get the guy off the pitch pretty quickly, therefore a proper medical assessment can go ahead as quickly as possible.
"The fans are not hanging around – sometimes it can go on for about 10 minutes, so it means all these games last a long time and the fans lose interest.
"But also it changes the pattern of the play if somebody's actually just starting to be on top and they break off for 10 minutes, it can make such a difference.
"There's three factors there so to take somebody off, bring somebody on quickly, just to take their place like they did with blood things in rugby and stuff.
"It's just, pardon the pun, a no-brainer and why they're not doing it I do not know.
"Whether they think they can't cope with doing the permanent concussion substitutes at the same time as introducing temporary concussion, I don't know… but come on!"
The Premier League said it "cannot understand the decision" while the Professional Footballers' Association also spoke out against it, saying nearly 80 per cent of its members supported a trial in a recent consultation.
Charity Headway said lawmakers had lost "further credibility" with a decision that led chief executive Luke Griggs to question their commitment to player safety.
"All you have to do is look at any of the previous World Cups or European Championships to see FIFA's claim they're putting the safety of players and their health as a priority is simply not the case," he told the PA news agency.
"I think it's fair to say FIFA, UEFA and IFAB have never taken the issue of brain injuries in football seriously.
"To claim they're doing so, I'm afraid, is not something we can accept."
FIFA president Gianni Infantino said on Saturday that they were waiting to receive more information on the implementation on permanent concussion substitutions, saying it is better "to take zero risk".
Griggs accepts that the temporary substitution concept is not "foolproof" but said the permanent substitutions has "made no change to the way that players are assessed".
Asked if he had concerns about the current generation of players, the Headway CEO said: "The reality is we may not know for many more years but what we do know is enough.
"We have enough science now, we have enough evidence now, to know that there is an issue here.
"It hasn't just gone away with the introduction of lightweight footballs because a lightweight football travels at speeds that can cause damage to the brain.
"The ball strikes the head at a faster pace, causing more energy to go into the brain and twist and turn inside the skull. We don't yet know the extent of that issue.
"But we do know we need to do something now and limit exposure to repetitive head injuries."
On the matter of temporary concussion substitutes, FIFA director of medical Dr Andrew Massey said their current approach is to try and "decrease the likelihood of these false negatives".
"The gravity of brain injury needs to be highlighted," he said. "Everybody also agrees that a brain injury or a concussion can take 72 hours to manifest itself – three days before you could potentially get symptoms.
"What we want to do is to avoid returning an injured brain to play before they are ready.
"If we did that, that's what we would call a false negative, where we assess somebody, we think they're negative to the injury, and we let them play on. That's the most dangerous."