Jonas Eidevall calls for focus as cup winners Arsenal return to WSL action
Arsenal manager Jonas Eidevall has urged his side to move on from their Continental Cup victory and focus on the Women's Super League title battle.
The Gunners return to league action against Liverpool three days on from beating Chelsea to lift their first trophy in almost four years.
However, in the league Arsenal are winless in three and have slipped to fourth, nine points behind leaders Manchester United with two games in hand.
And Eidevall has called for focus as Arsenal switch attention back to the four-team fight for the three Champions League places.
He said: "I think winning is fleeting. It's a very fleeting moment.
"Because you've chased something for so long and the final whistle goes and you win, those seconds are a very fleeting moment but it stays with you forever.
"After that – and this is also sometimes not one of my strengths – I don't stay in the past very long because I don't think that is a great sign if you want to have success in the future.
"So I know my job is to get the team focused for the next match."
Opponents Liverpool have not played a match since February 12, which manager Matt Beard admitted has been a source of frustration.
"We had an in-house game on Saturday just to get minutes into everyone's legs," he said.
"We've had a bit of a stop-start return after the Christmas break. We had an eight-week break, now we've had another nearly four weeks.
"It's been a real stop-start period for us. So that's super frustrating, but we've tried to do as much as we can to keep the players match fit and obviously the girls work hard in training.
"It's been frustrating not playing, but it's just the way the schedule's fell for us unfortunately."
Chelsea can move a point behind United if they win the first of their two games in hand on the leaders when they host Brighton on Wednesday.
The Seagulls will have Amy Merricks in caretaker charge after manager Jens Scheuer left the role by mutual consent after just two months.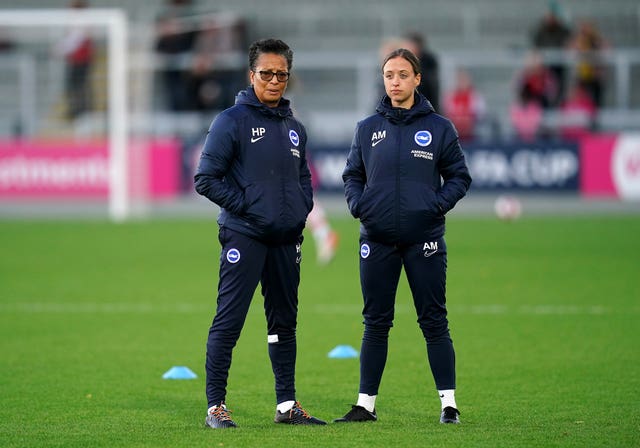 Merricks did not respond when asked whether she would want to take on the role full time, saying: "My full focus is on the game tomorrow to be honest with you, it's been quite a whirlwind 24 hours.
"My priority is with the team making sure that they're prepared and ready to go."
Brighton go into the game second bottom in the table, two points ahead of Leicester, who have played two games more.
Merricks added: "I'm really optimistic about the following games and this week in particular.
"I think we've got a good group of people who will pull together at this time and make sure that we put in a performance tomorrow night."