Erik ten Hag hails Casemiro's winning mentality before Man Utd visit Liverpool
Erik ten Hag waxed lyrical about the winning mentality of Casemiro ahead of Manchester United's trip to bitter rivals Liverpool.
Eyebrows were raised over the fee shelled out by United to bring the Brazilian to Old Trafford from Real Madrid last summer but he has been instrumental in their improvement this season.
United boss Ten Hag said: "Definitely Casemiro in this team is such a leader and he's so important for us. Not only with his performances, skills, like scoring a goal, linking up or intercepting balls, organisation, the mentality, the culture, and we are so happy that we signed him.
"In the summer we were looking for players with character, with personality. It was not only about signing a player.
"A lot of players have great skills or they can run really fast, but we are looking for players who have character, who have personality, who have leadership, who take responsibility, who are resilient.
"I knew what a magnificent player he was. Just look to his profile, you see all the cups he won, and that's not a coincidence. Rapha Varane and Casemiro, they won five [sic] Champions Leagues.
"For me, it's always the same – you have players who win and who win always, and players who lose and are always losing. Of course you have to do your research and find the type who will win and who are cooperative in a dressing room to be humble but when they are on the pitch they take responsibility.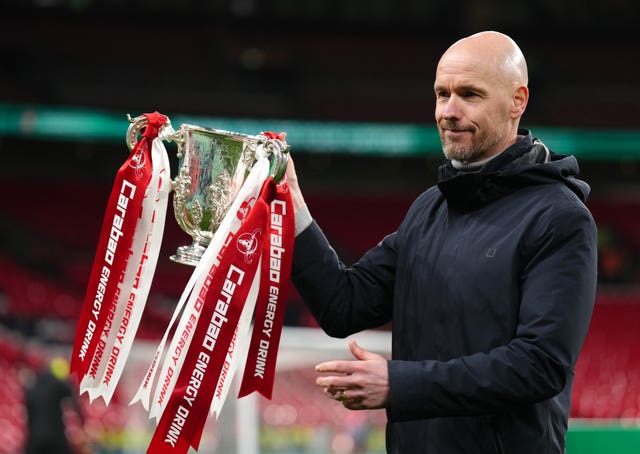 "You can sit on the bench and you are composed because you know the players will do the job and will deal with the situation and will bring you the wins."
After United won their first trophy under Ten Hag in the Carabao Cup final last weekend with a 2-0 victory over Newcastle, Casemiro could be seen admonishing Bruno Fernandes for a late missed chance.
"I think it shows, we're winning a trophy, we are happy, but the players have the approach that good is not good enough," said Ten Hag.
"It was 2-0 but we could have won 3-0 if we made better decisions. I think it's good that players show that responsibility and set high standards and set high demands to each other."
Varane recently highlighted the discipline Ten Hag has brought to Old Trafford, and the Dutchman believes that is key to their progress.
"Top players like structure," he said. "You need some rules, I think it's obvious in every organisation. When there's no discipline in taking the rules seriously, you get a mess. With us, it's quite obvious because you see straight away on the pitch what's going on."
This will be Ten Hag's first experience of a Manchester United match at Anfield, and he is under no illusions as to what to expect.
"I've seen the games between Liverpool and Manchester United, I know what's going on there," he said with a smile. "I have been already in many hostile stadiums but probably it will be the worst maybe. I'm really looking forward to it and my players are the same."