'Exactly what we need' – Jurgen Klopp delighted Fabinho looks back to his best
Liverpool manager Jurgen Klopp is hopeful midfielder Fabinho has rediscovered his form in time to bolster their push for the top four.
The Brazil international, like many of his team-mates, has struggled this season and that has contributed to some of the Reds' defensive issues as the holding role has become something of a revolving door with different options tried in an attempt to find a solution.
But Fabinho has started three of the last four matches, in all of which Liverpool have kept clean sheets, and his display in the midweek win against Wolves showed signs he was returning to his best.
"He is. It's obvious. Now everybody can see Fab is getting back; that's exactly what we need obviously," said Klopp.
"You cannot explain it really, it's just there, it happens. I was so happy about the last game of Fabinho, to be honest. So happy.
"So many things were exactly like we need from him – bringing the long foot in here and all these kinds of things.
"It was a really good game and that's exactly how we were used to having him: 'the lighthouse', 'the hoover', all these kinds of things.
"There's a point when you take things just for granted, you lose the ball there (and you think) 'Yeah, no problem, because there is Fabinho' and we have the ball again.
"Of course you miss these kinds of things in moments when it's not there and how can you be prepared for that? We don't have five number sixes in the club.
"It was really good and I'm really happy for him and happy for us that he looks really like the old one again."
As a result Fabinho is set to keep his place for Sunday's visit of Manchester United, something which would have been far from guaranteed even a month ago.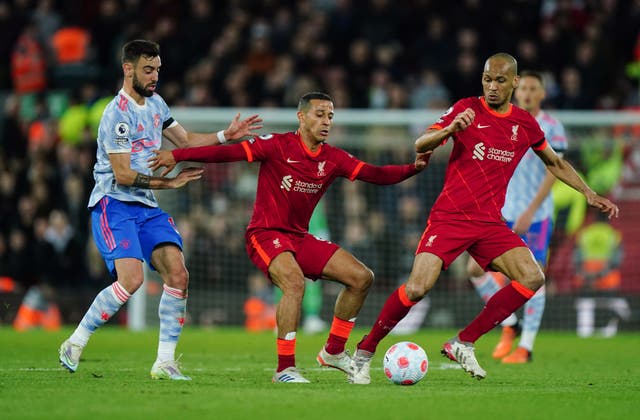 The clash of England's two most successful clubs appeared to have lost its edge in recent seasons, with Liverpool's 9-0 aggregate scoreline over two games last year a sign of the gulf between the two.
However, under Erik ten Hag United have developed into a different prospect and that has added an extra dimension to the weekend's encounter at Anfield.
"Without emotion it would be a sad event, to be honest, I don't think we should try that. Why should we?" Klopp said.
"But it's always about football. In football you need emotions but you need all your other skills as well.
"It's not our first 'derby', maybe for one or two players but even for them it's not a first derby, maybe just against United.
"United are quite a big club as well and so always when we face them it's massive."
What has not been so large is the number of penalties Liverpool have won this season.
They have gone 32 league games without being awarded a spot-kick, with their last one at Anfield 11 months ago.
"With all the bad stats we have recently until two weeks ago we still had second-most possession, shots on goal," said Klopp.
"Stats-wise we are up there and very often in the opposition's box. I am not sure how that (no penalties) can happen but it happens.
"Not getting a penalty for that long time is funny but I don't think we got particularly a lot in my whole time here and we had periods where we were living in the opposition's box.
"I cannot change that but it is cool someone else found the stats and I didn't have to mention it."