Focus on Chelsea's extravagant January spending is nothing new, says Emma Hayes
Chelsea boss Emma Hayes insists the scrutinous spotlight on Stamford Bridge feels like business as usual, despite the men's team's extravagant transfer window.
Graham Potter's Blues spent about £318million in January, including a British record £106.8m on midfielder Enzo Fernandez, yet were only able to eke out a 0-0 draw with Fulham in their first February meeting.
That result piled more pressure on Potter, whose side sit a disappointing ninth in the Premier League, but Hayes dismissed the suggestion that the ensuing media circus was anything new.
"I don't know why you think Chelsea have just been in the news this week," she said. "I've been here 10 years. Chelsea is always in the news, and that's just the way we like it."
Hayes has often praised the "one club" mentality at Stamford Bridge, something she feels has developed further since Todd Boehly and his consortium took over last May.
The 46-year-old, who often tops lists of female bosses most likely to make the transition to the men's game, recently had lunch with Potter, Boehly and Chelsea co-owner Behdad Eghbali, and is confident her Premier League counterpart is capable of handling the influx of new additions.
"It's a family here," she said. "It's more of a family here than it's ever been. Listen, coaches always want extra players, so it doesn't mean it's a bad thing. It will make them competitive.
"There are of course challenges to managing that, but Graham can do that. As a football club I think we have to be excited about the new era. I know from our owners, they're doing their best in a really short space of time to help us go to the next place."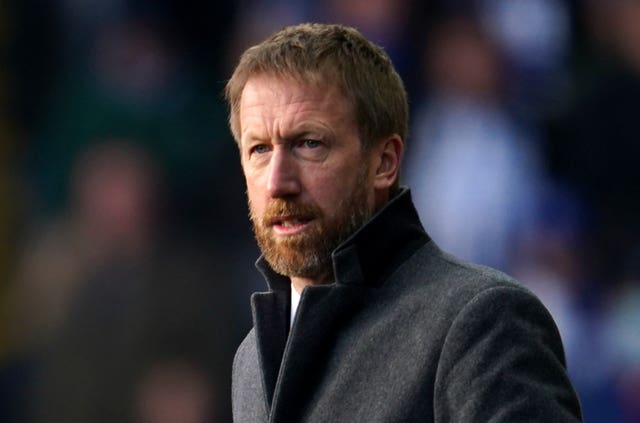 Hayes is under a different kind of pressure than Potter, with her side looking to secure their fourth consecutive Women's Super League title this season and fifth in six campaigns.
Only Arsenal have been able to unseat the Blues in that stretch and are strong challengers again this season, alongside surging Manchester United. Chelsea currently top the table, two points clear of United, though the third-placed Gunners have a game in hand.
Hayes' imminent challenge, however, is a Continental Tyres League Cup semi-final at West Ham on Thursday night.
The Conti Cup was the one that got away from finalists Chelsea last season, with holders Manchester City denying them a domestic treble, something Hayes will be keen to rectify this time around.
Though the Irons sit six spots and 15 points below Chelsea in the WSL, Hayes is expecting a battle from Paul Konchesky's side.
She added: "They're punching hard for him and the club and I think that we don't underestimate, not at their home, and I think it will be a tough slog tomorrow night."