Declan Rice will set British transfer record if he leaves West Ham – David Moyes
David Moyes says England midfielder Declan Rice will blow the British transfer record "out of the water" if he ever leaves West Ham.
The 24-year-old turned in a superb individual display as the Hammers fought back to claim a 1-1 draw at in-form Newcastle.
Chelsea this week set a new mark of £106.8million in bringing in World Cup winner Enzo Fernandez from Benfica, but Moyes believes the much-admired Rice would go for more than that.
Hammers boss Moyes said: "I don't know if I need to say the words, I think you can say the words if you watched it the way I saw it. I thought he was a top player in the first half, he really was, he showed so many things.
"Undoubtedly Declan is going to be a top player. Undoubtedly he'll be a British transfer record if he ever leaves West Ham."
Asked if Rice's departure was inevitable, Moyes said: "I hope it's not, I hope he sees his time here.
"But look, there's a lot of talk about it and when you see what's going about for the prices, I think Dec will be blowing that (British record) out of the water, that's for sure, when it comes around."
Rice's efforts helped the Hammers secure a creditable point on Tyneside on an afternoon when the Carabao Cup finalists sorely missed the suspended Bruno Guimaraes.
They could hardy have got off to a better start when, with Joe Willock having already seen a first-minute strike correctly ruled out following a VAR review, Callum Wilson ended his 10-game drought after being played through by Sean Longstaff.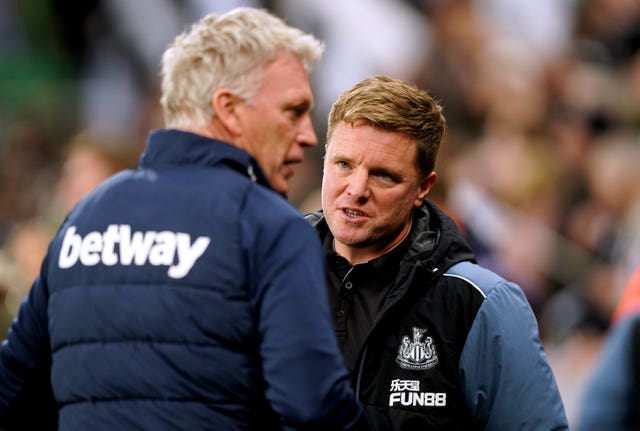 However, the Hammers levelled through former Newcastle target Lucas Paqueta and then defended impressively to claim a deserved point.
As a result the Magpies, who remain unbeaten at home this season, slipped to fourth place in the table with Manchester United having replaced them in third following their 2-1 victory over Crystal Palace.
Head coach Eddie Howe, who confirmed record signing Alexander Isak had sat out under concussion protocols, said: "Because of our form this season, these types of games feel like defeats. When you're in my shoes, it's important to see the bigger perspective and see other things.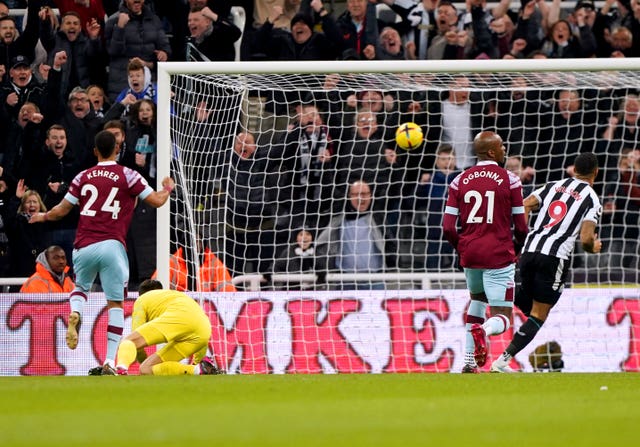 "I have to make sure the players don't overreact to what is a point. People might say it's a disappointment, but it depends on what context you're looking at it in. You can see four draws in five, or you can see 16 games unbeaten.
"I like to be very realistic and look at objectively and not rose-tint it, but I can't criticise the players for what they've delivered this week or what they've delivered today."
Howe handed a debut to £45million January signing Anthony Gordon as a second-half substitute and was happy with what he saw from the 21-year-old.
He said: "I was very pleased with him. Your first action here at St James' Park is important. His first pass was a brilliant one and he injected some life into us at a time when we needed it in the game.
"I'm disappointed for him that we couldn't get him in the box and see what he can do closer to goal, but he did really well when he came on."