Nato beefs up Kosovo presence with UK troops after monastery shootout
Nato has announced it is beefing up its presence in Kosovo with UK troops after four people were killed in a weekend shootout and as the US expressed concern about a build-up of Serbian forces along the border of its former territory.
Kosovo's prime minister welcomed Nato's decision, saying that Sunday's attack involving around 30 gunmen is a new sign that Serbia wants to destabilise its former southern province with the help of ally Russia.
"These people want to turn back time," Prime Minister Albin Kurti told The Associated Press. "They are in search of a time machine. They want to turn the clock back by 30 years. But that is not going to happen."
Nato launched a bombing campaign on Serb positions to halt a crackdown on separatist ethnic Albanians in Kosovo and end their 1998-99 war. The war left around 10,000 people dead, mostly Kosovo Albanians.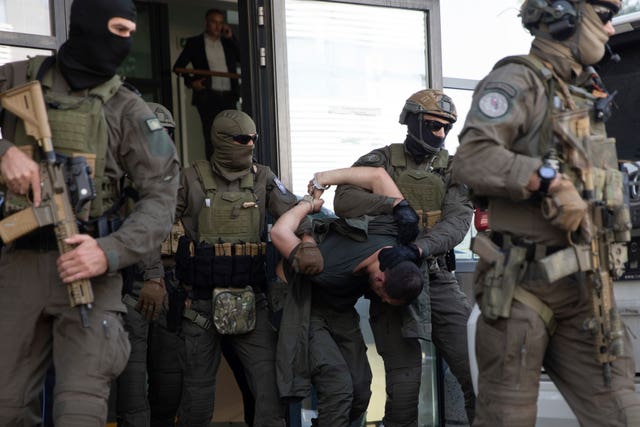 Earlier on Friday, Kosovo police raided several locations in a Serb-dominated area of the country's north, where the weekend violence centred on a monastery left one Kosovo police officer and three Serb insurgents dead, raising tensions to boiling point.
Police said in a statement that they were conducting searches at five locations in three municipalities linked to Sunday's shootout in the village of Banjska in northern Kosovo. It was one of the worst confrontations since Kosovo broke away from Serbia in 2008. Belgrade refuses to recognise it as independent.
Nato, which leads the KFOR peacekeeping force, said that extra UK troops would be placed under KFOR command "if needed, to address the current situation".
A few hundred troops from the UK's 1st Battalion of the Princess of Wales's Royal Regiment are now available to KFOR. Around 500 troops were deployed from Turkey in June after dozens of KFOR personnel were hurt in riots in northern Kosovo.
"We need Nato because the border with Serbia is very long and the Serbian army has been recently strengthening its capacities and they have a lot of military equipment from both the Russian Federation and China," Mr Kurti said.
In Sunday's attack, about 30 masked men opened fire on a police patrol near Banjska before breaking down the gates of a Serbian Orthodox monastery and barricading themselves inside with the priests and visiting pilgrims. The 12-hour shootout that followed left one police officer and three gunmen dead.
John Kirby, spokesman for the White House National Security Council, said the attack was "well-coordinated and planned", adding that the size of the weapons cache found during the attack threatens the safety of Kosovo officials and international personnel, including Nato troops.
"Everyone who was involved in planning and carrying out this attack needs to be brought to justice," he said.
Mr Kirby also said US officials were monitoring a large deployment of Serbian troops along the border with Kosovo, describing it as an "unprecedented staging of advanced Serbian artillery, tanks and mechanised infantry units".
Serbian president Aleksandar Vucic denied that there has been any build-up.
In a separate interview with the AP, Kosovo president Vlosa Osmani hailed Nato's decision to bolster its forces. He described the weekend violence as an "act of aggression" against Kosovo and demanded that Serbia be punished.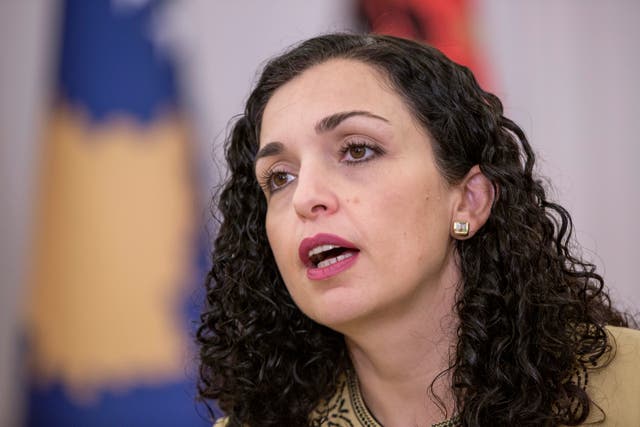 He said the international community must not only condemn the attack "but then also, after they complete their internal procedures of confirmation of information, undertake clear measures against Serbia".
He referred to Mr Vucic as a "proxy" of Russia counterpart Vladimir Putin: "And it is very clear now to everyone, even to those that had any doubt, that he is playing out Russia's plan in the Western Balkans."
In Belgrade, Mr Vucic said he had spoken on the phone with US secretary of state Antony Blinken, and they "agreed that de-escalation is needed" along with a greater role for KFOR.
Nato's decision to reinforce KFOR is "good news", said Mr Vucic. He insisted that at least one of the three Serbs killed was "liquidated" after surrendering and promised that Serbia will "prosecute the cold-blooded killers". The insurgents, he said, are ordinary people who rebelled to "protect their homes".
"I will not call the Serbs terrorists," Mr Vucic said. "I don't care what anyone in the world thinks." European Union officials have described events over the weekend as a "terrorist attack".