Few answers in congressional hearing on Maui's wildfire and electric provider
Politicians probing the cause of last month's deadly Maui wildfire did not get many answers during Thursday's congressional hearing on the role the electrical grid played in the disaster.
The president of Hawaiian Electric, Shelee Kimura, said she did not know specific details about when the power stopped flowing through downed power lines in Lahaina or when the decision was made to trigger a procedure designed to ensure broken lines were not re-energised.
But she said she would get that information to the committee later. Hawaiian Electric is Maui's sole electricity provider.
The fire in the historic town of Lahaina killed at least 97 people and destroyed more than 2,000 buildings, mostly homes.
It first erupted at 6.30am when strong winds appeared to cause a Hawaiian Electric power line to fall, igniting dry brush and grass near a large subdivision.
The fire was initially declared contained, but it flared up again around 3pm and spread through the town.
The Associated Press reported on Wednesday that aerial and satellite imagery shows the gully where the fire reignited that afternoon has long been choked with plants and trash, which a severe summer drought turned into tinder-dry fuel for fires.
Photos taken after the blaze show charred foliage in the utility's right-of-way still more than 10 feet (three metres) high, and a resident who lives next to the gully said it had not been mowed in the 20 years he has lived there.
Asked about the issue on Thursday during the US House Energy and Commerce subcommittee hearing, Ms Kimura reiterated Hawaiian Electric's position that it is only responsible for trimming trees that are high enough to contact electric lines.
"Our vegetation management is around our lines. It is not a stated right to take care of the grass under our lines on private property," she said, adding that it is an issue that the state should consider in the aftermath of the fire.
Politicians questioned Ms Kimura and other utility officials about how the deadliest US wildfire in more than a century began — and whether the electrical grid in Lahaina was safe and properly maintained.
There is still much to sort out about the fire, Republican representative Morgan Griffith said at the hearing's start.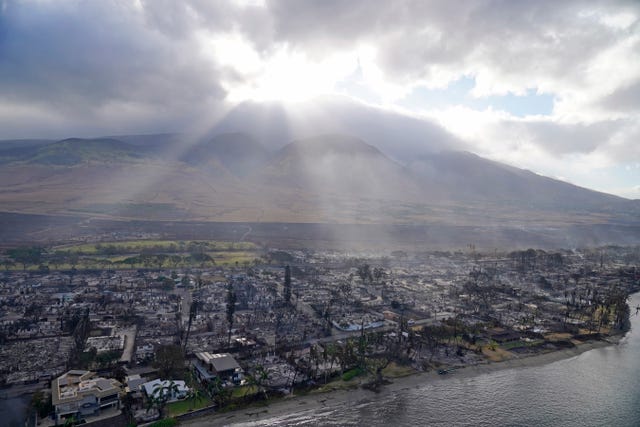 Among questions that need to be answered are how the fires spread and what efforts to reduce fire risk have been made in recent years.
Those testifying at the hearing were Ms Kimura, Hawaii Public Utilities Commission chair Leodoloff Asuncion Jr and Hawaii chief energy officer Mark Glick.
Asked to address whether the electrical grid in Lahaina was safe and properly maintained, Ms Kimura told the committee that 2,000 of the company's wooden power poles had not been tested for possible termites, rot or other problems since 2013.
The other 29,000 poles on the island had been assessed under Hawaiian Electric's "test and treat" programme, she said.
Ms Kimura said she did not know exactly where those 2,000 remaining untested poles were located. But at least one near where the fire started was tested and treated in 2022, she said.
The factors that led to the fire are complex and involve several organisations, Ms Kimura said.
"There's a system here that was in play for all of these conditions to happen all at one time that resulted in the devastation in Lahaina," she said.
Both Ms Kimura and Mr Asuncion addressed the possibility of burying power lines to reduce wildfire risk, especially in high-wind conditions.
About 50% of Hawaii's power lines are now underground, Ms Kimura said. However, Mr Asuncion said burying can be cost-prohibitive and has a big impact on rate-payers.
Andrea Pekelo, one of eight fire victims who attended the hearing, said afterward that she appreciated the "pointed questions" asked by the politicians but she was frustrated by the responses and hopes the committee keeps pushing for answers.