Ukraine 'launches missile strike on headquarters of Russia's Black Sea fleet'
Ukraine has carried out a missile strike on the headquarters of Russia's Black Sea fleet, a Russian official has said.
Images on social media show large plumes of smoke said to be coming from Sevastopol harbour in the annexed Crimea.
The Russian-installed governor of Sevastopol, Mikhail Razvozhayev, did not offer any details, saying only that emergency services have been dispatched to the site of the strike and there was no information about casualties.
Mr Razvozhayev told Sevastopol residents "another attack is possible" and urged them not to leave buildings or go to the city centre.
"Those who are near the fleet headquarters, head to the shelters if you hear the siren," he wrote.
He also said firefighters were battling a blaze at the site of the attack and more emergency forces were being brought in – an indication the fire could be massive.
Ukraine did not immediately claim responsibility for the attack.
Sevastopol residents said they heard explosions in the skies and saw smoke, Russian news outlets reported.
Images circulated in Ukrainian Telegram channels showed clouds of smoke over the seafront.
The Associated Press could not immediately verify the videos.
The attack comes a day after Russian missiles and artillery pounded cities across Ukraine, killing at least five people as President Volodymyr Zelensky met US President Joe Biden and congressional leaders in Washington with an additional 24 billion-dollar (£19.6 billion) aid package being considered.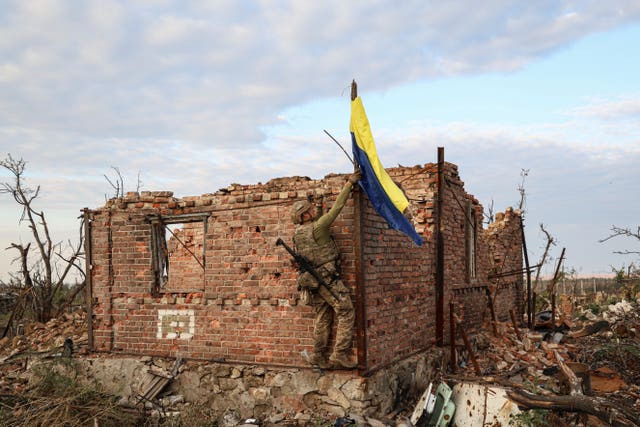 In other developments, ongoing shelling in the southern Kherson region killed one man and injured another, said regional governor Oleksandr Prokudin.
"Kherson has been restless since the morning," he said on Telegram.
Russian shelling sparked fires in a residential building and a garage.
In Kharkiv, regional governor Oleh Synyehubov said more than 14 settlements came under attack.
A house was damaged and a fire broke out in Vovchansk, in Chuguyiv district.
There were no casualties, the governor said.