Trump's presence will be felt at presidential debate in his absence
Donald Trump will be a central figure at the first Republican presidential primary debate on Wednesday – even though he is not taking part.
The remaining eight candidates hoping to take on President Joe Biden in the November 2024 election will confront each other in person for the first time in Milwaukee, hosted by Fox News.
They will likely face pressure to articulate how they would differ in style and substance from Mr Trump, who holds a commanding early lead in the polls.
That could be a delicate task, forcing candidates to decide how closely to align themselves with the former president's most outlandish positions, including his lies about widespread fraud during the 2020 election.
With less than five months until the Iowa caucuses jumpstart the GOP presidential nomination process, the debate is a critical opportunity for lower-polling candidates to introduce themselves to millions of voters.
The pressure is perhaps greatest for Florida governor Ron DeSantis, who announced his campaign in May to great fanfare but has struggled to gain traction and is fighting to maintain his distant second-place status.
"It's really important for the whole crowd and an opportunity for them to connect," said former Maryland Republican governor Larry Hogan, who passed on a run of his own. The stakes, he said, are highest for Mr DeSantis.
"It's really do or die for him, make or break," he said. "Finally time to show that he's a capable candidate. And if he doesn't, I think this could be the end."
The debate will also include South Carolina senator Tim Scott, former UN Ambassador Nikki Haley, biotech entrepreneur Vivek Ramaswamy, former New Jersey governor Chris Christie, North Dakota Governor Doug Burgum, former vice president Mike Pence and former Arkansas governor Asa Hutchinson.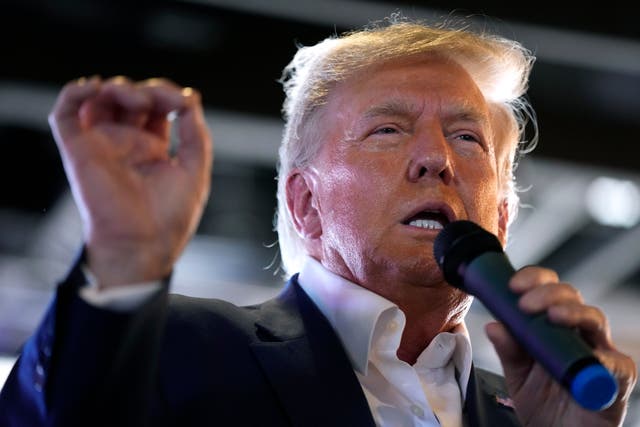 The primetime event will unfold at a moment of reckoning for the Republican Party.
Mr Trump is the prohibitive early frontrunner in the race, raising serious questions about whether the party will have much of a competitive primary.
The former president's vulnerabilities in a general election are clear, particularly in the wake of four criminal indictments charging him with hoarding classified documents, conspiring to overturn the 2020 election and making hush money payments to a porn actress and other women.
The debate will take place a day before Mr Trump is set to travel to Georgia to be booked on criminal charges.
His standing in the primary has only increased as the charges have mounted, leaving the GOP on track — barring a stunning realignment — to nominate a candidate who would enter the race against Mr Biden in a potentially weak position.
Polling this month from The Associated Press-NORC Centre for Public Affairs Research found 64% of Americans are unlikely to support Trump if he is the GOP nominee, including 53% who say they would definitely not support him and 11% who say they would probably not support him in November 2024.