Ukraine accuses Russia of destroying major dam and warns of widespread flooding
The wall of a major dam in a part of southern Ukraine that Moscow controls has collapsed – triggering floods, endangering Europe's largest nuclear power plant and threatening drinking water supplies as both sides in the war rushed to evacuate residents and blamed each other for the emergency.
Ukraine accused Russian forces of blowing up the Kakhovka dam and hydroelectric power station on the Dnieper River, while Russian officials blamed Ukrainian military strikes in the contested area.
It was not possible to verify the claims.
The potentially far-reaching environmental and social consequences of the disaster quickly became clear as homes, streets and businesses flooded downstream and emergency crews began evacuations, officials raced to check cooling systems at the Zaporizhzhia nuclear power station and authorities expressed concern about supplies of drinking water to the south in Crimea, which Russia illegally annexed in 2014.
Tuesday's dam break adds a new dimension to Russia's ongoing war in Ukraine, now in its 16th month.
Ukrainian forces were widely seen to be moving forward with a long-anticipated counteroffensive in patches along more than 620 miles of frontline in the east and south of Ukraine.
It was not immediately clear whether either side benefits from the damage to the dam, since both Russian-controlled and Ukrainian-held lands are at risk of flooding.
The damage could hinder Ukraine's counteroffensive in the south and distract its government, while at the same time Russia depends on the dam to supply water to Crimea.
Patricia Lewis, director of the International Security Programme at the Chatham House think tank in London, said apportioning blame is difficult but "there are all sorts of reasons why Russia would do this."
"There were reports (last autumn) of Russians having mined the reservoir. The question we should pose is why the Ukrainians would do this to themselves, given this is Ukrainian territory," she said.
Experts said previously the dam structure was suffering from disrepair.
David Helms, a retired American scientist who has monitored the reservoir since the start of the war, said it was not clear if the damage was deliberate or simple neglect from Russian forces occupying the facility.
But Mr Helms reserved judgement, noting a Russian history of attacking dams.
Ukrainian President Volodymyr Zelensky said he convened an urgent meeting of the National Security Council.
He alleged that Russian forces set off a blast inside the dam structure at 2.50am (11.50pm on Monday GMT) and said some 80 settlements were in danger.
But Kremlin spokesman Dmitry Peskov called it "a deliberate act of sabotage by the Ukrainian side … aimed at cutting water supplies to Crimea".
Both sides warned of a looming environmental disaster.
Ukraine's Presidential Office said some 150 metric tonnes of oil escaped from the dam machinery and another 300 tonnes could still leak out.
Andriy Yermak, the head of Ukraine's President's Office, posted a video showing swans swimming near an administrative building in the flooded streets of Russian-occupied Nova Kakhovka, a city in the Kherson region where some 45,000 people lived before the war.
Other footage he posted showed flood waters reaching the second floor of the building.
The Ukrainian Interior Ministry called for residents of 10 villages on the Dnieper's right bank and parts of the city of Kherson downriver to gather essential documents and pets, turn off appliances and leave – while cautioning against possible disinformation.
The Russian-installed mayor of occupied Nova Kakhovka, Vladimir Leontyev, said it was being evacuated as water poured into the city.
Ukraine's nuclear operator Energoatom said in a Telegram statement that the damage to the dam "could have negative consequences" for the Zaporizhzhia nuclear power plant but said that, for now, the situation is "controllable".
The UN's International Atomic Energy Agency (IAEA) said in a statement there was "no immediate risk to the safety of the plant", which requires water for its cooling system.
It said IAEA staff on site have been told the dam level is falling by five centimetres an hour.
At that rate, the supply from the reservoir should last a few days, it said.
The plant also has alternative sources of water, including a large cooling pond than can provide water "for some months", the statement said.
Ukrainian authorities have previously said the dam's failure could unleash 4.8 billion gallons of water and flood Kherson and dozens of other areas where hundreds of thousands of people live.
The World Data Centre for Geoinformatics and Sustainable Development, a Ukrainian nongovernmental organisation, estimated that nearly 100 villages and towns would be flooded.
It also reckoned that the water level would start dropping only after five to seven days.
A total collapse in the dam would wash away much of the broad river's left bank, according to the Ukraine War Environmental Consequences Working Group, an organisation of environmental activists and experts documenting the war's environmental effects.
Mykhailo Podolyak, a senior adviser to Mr Zelensky, said "a global ecological disaster is playing out now, online, and thousands of animals and ecosystems will be destroyed in the next few hours".
Videos posted online began testifying to the spillover, with one showing floodwaters inundating a long road and another showing a beaver scurrying for high ground from rising waters.
The incident also drew international outrage, including from German Chancellor Olaf Scholz and Nato secretary-general Jens Stoltenberg, who said the "outrageous act … demonstrates once again the brutality of Russia's war in Ukraine".
Ukraine controls five of the six dams along the Dnieper, which runs from its northern border with Belarus down to the Black Sea and is crucial for the entire country's drinking water and power supply.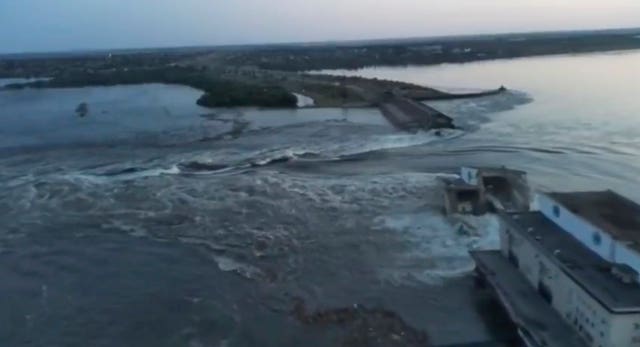 Ukraine's state hydro power generating company said in a statement "the station cannot be restored".
Ukrhydroenergo also claimed Russia blew up the station from inside the engine room.
Mr Leontyev, the Russian-appointed mayor, said numerous Ukrainian strikes on the Kakhovka hydroelectric plant destroyed its valves and "water from the Kakhovka reservoir began to uncontrollably flow downstream".
Mr Leontyev said damage to the station is beyond repair and it will have to be rebuilt.
Ukraine and Russia have previously accused each other of targeting the dam with attacks, and last October Mr Zelensky predicted Russia would destroy the dam in order to cause a flood.
Authorities, experts and residents have for months expressed concerns about water flows through — and over — the Kakhovka dam.
In February, water levels were so low that many feared a meltdown at the Zaporizhzhia nuclear plant, whose cooling systems are supplied with water from the Kakhovka reservoir held up by the dam.
By mid-May, after heavy rains and snow melt, water levels rose beyond normal levels, flooding nearby villages.
Satellite images showed water washing over damaged sluice gates.