No breakthrough in Nato-Turkey talks on Sweden joining alliance
Nato Secretary-General Jens Stoltenberg made no breakthrough on Sunday in talks about Sweden's membership in the organisation with Turkish President Recep Tayyip Erdogan.
Officials from the two countries will meet in just over a week to try to bridge their differences.
Nato wants to bring Sweden into the fold by the time US President Joe Biden and other allied leaders meet in Lithuania on July 11-12, but Turkey and Hungary have yet to endorse the move. All 31 member countries must ratify a candidate's accession protocol for it to join the trans-Atlantic alliance.
Turkey's government accuses Sweden of being too lenient on terror organisations and security threats, including militant Kurdish groups and people associated with a 2016 coup attempt.
Hungary has also delayed its approval, but the reasons why have not been made publicly clear.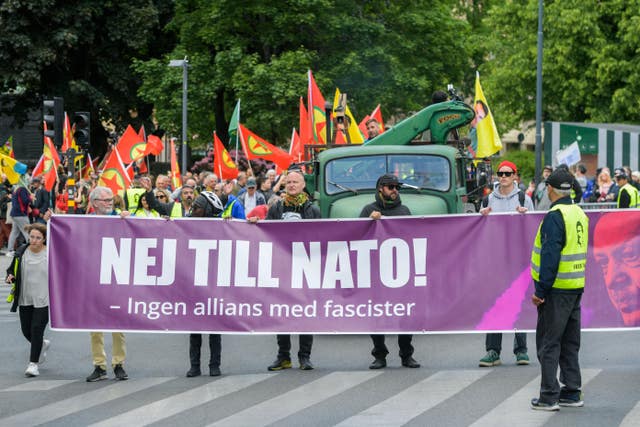 "President Erdogan and I agreed today that the permanent joint mechanism should meet again in the week starting on June 12. Membership will make Sweden safer, but also Nato and Turkey stronger," Mr Stoltenberg told reporters in Istanbul.
The permanent joint mechanism was set up to address Turkey's concerns about Sweden and Finland, the latter of which became the 31st member of Nato in April.
"Sweden has fulfilled its obligations" for membership, Mr Stoltenberg said. He noted that the country has amended its constitution, strengthened its anti-terror laws and lifted an arms embargo on Turkey since it applied to join Nato just over a year ago.
Fearing they might be targeted by Moscow after Russia invaded Ukraine last year, Sweden and Finland abandoned their traditional positions of military nonalignment to seek protection under Nato's security umbrella.
As Mr Stoltenberg held talks in Istanbul, hundreds of people, including dozens of pro-Kurdish protesters, gathered in Stockholm to demonstrate against Sweden's planned Nato membership. Up to 500 people took part in the action titled "No to Nato — no Erdogan Laws in Sweden".
They rallied under the banner of the Alliance Against Nato, an umbrella for a mix of Kurdish organisations, leftist groups, anarchists, youth and climate activists and people opposed to Sweden's new anti-terror laws, which took effect on June 1, as well as those calling for free media.
In January, a protest in Stockholm involving the burning of a copy of the Koran brought Sweden's membership talks at Nato to a halt, after Mr Erdogan suspended the meetings. The incident led to anti-Sweden demonstrations around the Muslim world.
"We know that Erdogan is watching this and … he has been very angry at these things in the past, so most likely we will have the same response from him and delay the Swedish Nato accession even further," Alliance Against Nato spokesman Tomas Pettersson said.
Mr Stoltenberg appeared to suggest that the protests might have been raised during his talks.
"I understand it is hard to see demonstrations against Turkey and against Nato in Sweden," Mr Stoltenberg said, "but let me be clear, freedom of assembly and expression are core values in our democratic societies. These rights must be protected and upheld."
He also said that it's important to "remember why these demonstrations are taking place. The organisers want to stop Sweden from joining Nato. They want to block Sweden's counterterrorism co-operation with Turkey, and they want to make Nato weaker. We should not allow them to succeed."