Indian PM opens new parliament building in ceremony boycotted by opponents
India's major opposition parties have boycotted the inauguration of a new parliament building by Prime Minister Narendra Modi, in a rare show of unity against his Hindu nationalist ruling party.
Mr Modi inaugurated the building in the capital New Delhi on Sunday by offering prayers as Hindu priests chanted religious hymns.
Opposition parties criticised the event, saying Mr Modi had side-lined President Droupadi Murmu, who has only ceremonial powers but is the head of state and highest constitutional authority.
Shortly after the inauguration, a visibly beaming Mr Modi entered parliament amid rousing applause by his party politicians, who chanted his name.
He delivered an almost 40-minute speech in which he hailed India's parliamentary democracy and said the country has left behind its colonial past, referring to the old parliament building that was built by the British when they ruled India.
Mr Modi's party has ruled for nine years and is seeking a third term in next year's election.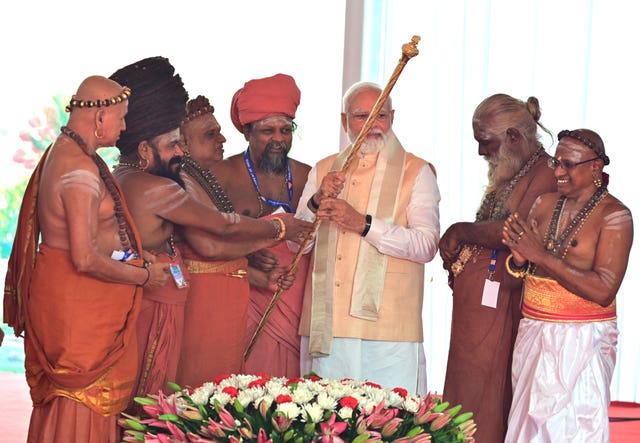 As parliamentarians thumped their desks, Mr Modi said: "India is the mother of democracy.
"Several years of foreign rule stole our pride from us. Today, India has left behind that colonial mindset."
The opposition Congress party leader Rahul Gandhi tweeted: "Parliament is the voice of the people. The Prime Minister is considering the inauguration of the parliament House as a coronation."
At least 19 opposition parties skipped the event, which coincided with the birth anniversary of a Hindu nationalist ideologue.
Opposition parties had said in a statement on Wednesday that Mr Modi's decision to inaugurate the building was "a grave insult" to India's democracy, because the government had "disqualified, suspended and muted" opposition politicians while passing "controversial legislation" with little debate.
"When the soul of democracy has been sucked out from the parliament, we find no value in a new building," the parties said.
India's powerful home minister Amit Shah said the opposition had politicised the event, while others within Mr Modi's party said the boycott was an insult to the prime minister.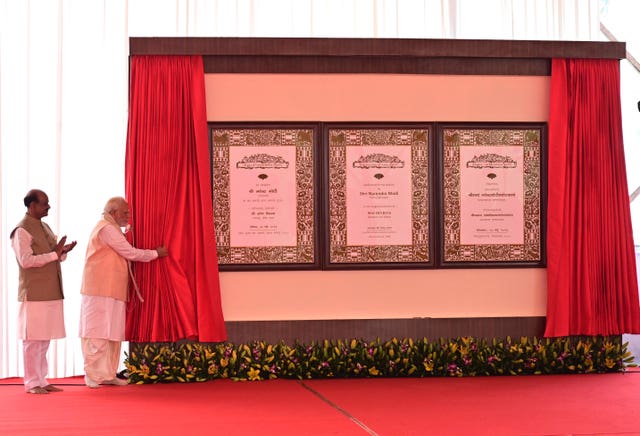 The new triangular-shaped building – built at an estimated cost of almost £100 million – is part of a £2.3 billion revamp of British-era offices and residences in central New Delhi that will also include blocks of buildings to house government ministries and departments, and Mr Modi's new private residence.
The entire project, called the Central Vista, is spread over 1.9 miles.
The project was announced in 2019, and Mr Modi laid the foundation in December 2020.
The plan has drawn intense criticism from opposition politicians, architects and heritage experts, many of whom called it environmentally irresponsible, a threat to cultural heritage and too expensive.
Outrage grew in 2021, when at least 12 opposition parties questioned the project's timing, saying it was built as the country faced a devastating surge in coronavirus cases. They branded the revamp as Mr Modi's "vanity project" and said its construction was prioritised over the loss of lives and livelihoods during the pandemic.