Montenegro president: 'Negligent' EU has allowed Russian influence in Balkans
Montenegro's pro-Western president has criticised the European Union for allegedly allowing Russia to spread its influence in the Balkans, saying on Tuesday that the volatile region has become a "platform" for anti-EU policies due to the bloc's "negligence".
President Milo Djukanovic spoke to the Associated Press as he prepares for a Sunday runoff election with a political newcomer who has the support of the Montenegrin government, which includes parties seeking closer relations with Serbia and Russia.
"Russia has simply walked into an open space left by the European Union," Mr Djukanovic said of the EU's position toward the Balkans.
"The European Union in the past 10 years didn't know what to do with the western Balkans, but Russia did. It has developed its network in the Balkans."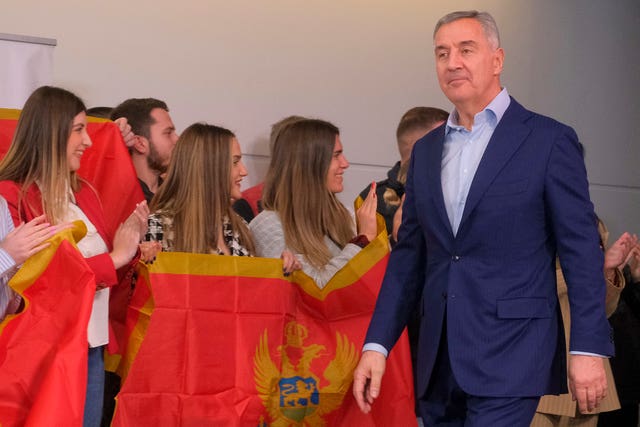 Mr Djukanovic, who has held Montenegro's largely ceremonial presidency since 2018, won the most votes in the first round of the country's presidential election, which was held on March 19.
Analysts in Montenegro think his challenger in the two-candidate runoff, former economy minister Jakov Milatovic, stands a good chance of winning because he has the backing of other candidates and political parties.
With an early parliamentary election scheduled for June 11, this weekend's vote is considered an important indicator of the future path of Montenegro, a small Nato member nation of 620,000 people.
A political stalemate has stalled the country's EU path and raised fears of instability as the war rages in Ukraine.
Mr Djukanovic told the AP the presidential contest presents a choice between his pro-EU policies and the "brutal populism" of the current coalition government, which is dominated by parties that favour closer ties with Serbia and Russia.
His Democratic Party of Socialists governed the country more or less unchallenged for three decades.
The president alleged that the the ruling coalition that came to power after a 2020 parliamentary vote has devastated Montenegro economically and financially.
"For the past two and a half years, we have witnessed serious stumbling by Montenegro," Mr Djukanovic said.
The coalition government has pledged that Montenegro would remain on its European Union path.
Mr Milatovic, the president's challenger, also has expressed support for the country pursuing EU membership.
Analysts say the Western-educated Mr Milatovic, 36, is seen as the favourite on Sunday against Mr Djukanovic, 61, who as prime minister took Montenegro to independence from Serbia in 2006 and defied Russia in 2017 to secure Nato membership.