North Korea launches two more missile tests as tensions rise
North Korea has fired two short-range ballistic missiles towards waters off its eastern coast, according to neighbouring South Korea.
The latest upsurge in weapons tests come as the United States prepared to deploy an aircraft carrier strike group to step up military exercises with South Korea.
South Korea's joint chiefs of staff said the missiles were fired from south of the North Korean capital Pyongyang but did not release flight details.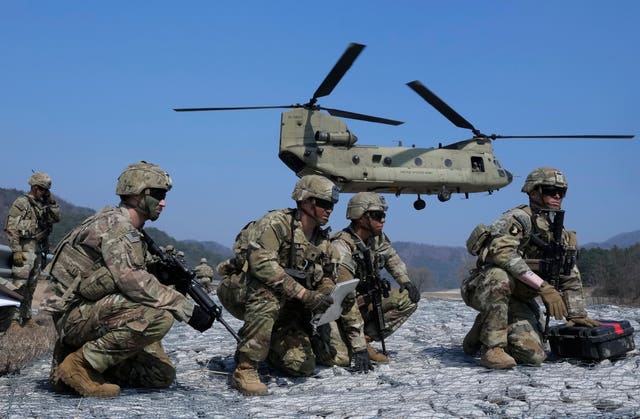 Japan's coastguard said it believed both weapons landed outside the country's exclusive economic zone.
The launches were North Korea's seventh missile event this month amid heightened military tensions with the US moving an aircraft carrier group to the Korean peninsula this week for another round of joint drills.
North Korea has fired more than 20 ballistic and cruise missiles across 11 launch events this year as it tries to force the United States to accept its nuclear status and negotiate a removal of sanctions.
Launches have included a flight test of an intercontinental ballistic missile and a series of short-range weapons as it tries to demonstrate an ability to conduct nuclear strikes on both South Korea and the US mainland.
A three-day exercise last week simulated nuclear attacks on South Korean targets as leader Kim Jong Un condemned the US-South Korean joint military drills – described by the allies as defensive in nature – as invasion rehearsals.
South Korea's air force said the latest five-day joint aerial drill included live-fire demonstrations of air-to-air and air-to-ground weapons.
North Korea launched more than 70 missiles in 2022.