South African protesters call for president to resign
South African police are monitoring protests by the country's leftist Economic Freedom Fighters party, which is demanding the resignation of President Cyril Ramaphosa.
The party urged all South Africans to participate in a national shutdown but there was a limited response in most of the country's major cities.
At least 87 people had been arrested for public violence and related offences by Monday, police said.
Police spokeswoman Athlenda Mathe said: "At least 24,300 tyres have been confiscated by law enforcement agencies. These were tyres that were strategically placed for acts of criminality."
Some protest marches were noted in various areas including the Alexandra and Tembisa townships, east of Johannesburg.
Several roads leading to the centre of the eastern Kempton Park suburb were closed as protesters marched to voice their grievances.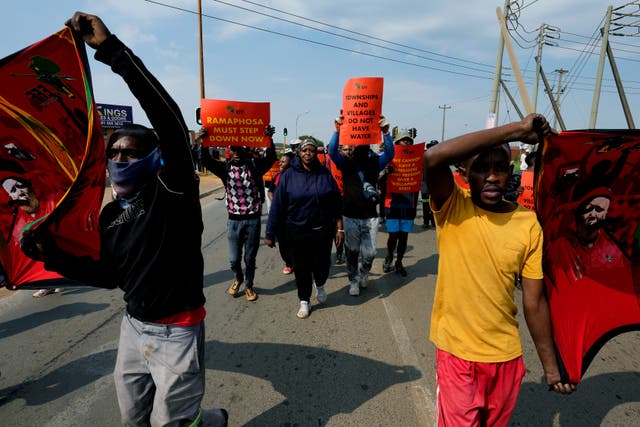 Cedric Cele, who joined the EFF demonstration in Kempton Park, said: "All South Africans should be protesting with us right now because loadshedding (power cuts) is affecting all of us.
"The government must know that we are suffering, especially us who are running small businesses."
A heavy police presence was also noted in the capital, Pretoria, where police have been deployed to monitor any potential violence and intimidation against people who are not participating in the protest.
The demonstration was meant to highlight South Africa's power cuts which have seen households and businesses go without electricity for up to 12 hours daily.
Security forces were deployed to monitor the protests on Monday, with government officials describing them as part of the EFF's "regime change agenda".
The EFF is South Africa's third largest political party by representatives in the National Assembly.