Trump says he will be arrested on Tuesday as prosecutor eyes charges
Former US president Donald Trump has said in a social media post that he will be arrested on Tuesday, as a New York prosecutor eyes charges in a case examining hush money paid to women who alleged sexual encounters with him.
Mr Trump said in a post on his Truth Social network on Saturday that "illegal leaks" from the Manhattan district attorney's office indicate that "THE FAR & AWAY LEADING REPUBLICAN CANDIDATE & FORMER PRESIDENT OF THE UNITED STATES OF AMERICA, WILL BE ARRESTED ON TUESDAY OF NEXT WEEK."
Mr Trump urged his followers to protest.
In a later post that went further, he directed his ire at the Biden administration and raised the prospect of civil unrest: "IT'S TIME!!!" he wrote. "WE JUST CAN'T ALLOW THIS ANYMORE. THEY'RE KILLING OUR NATION AS WE SIT BACK & WATCH. WE MUST SAVE AMERICA!PROTEST, PROTEST, PROTEST!!!"
Law enforcement officials in New York have been making security preparations for the possibility that Mr Trump could be indicted.
There has been no public announcement of any time frame for the grand jury's secret work in the case, including any potential vote on whether to indict the ex-president.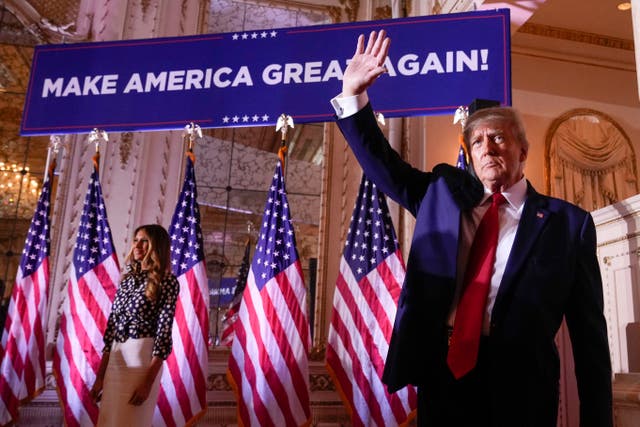 Mr Trump did not provide any details on social media about how he knew about the expected arrest.
A statement from a Trump spokesperson said Trump's Truth Social post was not based on any notification from prosecutors "other than illegal leaks" to the news media.
"President Trump is rightfully highlighting his innocence and the weaponisation of our injustice system," the statement said.
Later a spokesperson and a lawyer for Mr Trump said his Truth Social post was based on media reports rather than any actual update from, or communication with, prosecutors. The district attorney's office declined to comment on Saturday.
Should Mr Trump be indicted, he would be arrested only if he refused to surrender. Mr Trump's lawyers have previously said he would follow normal procedure, meaning he would likely agree to surrender at a New York Police Department precinct or directly to the district attorney's office.
The indictment of Mr Trump, 76, would be an extraordinary development after years of investigations into his business, political and personal dealings.
It is likely to galvanise critics who say Mr Trump, a 2024 presidential candidate, lied and cheated his way to the top and to embolden supporters who feel the Republican is being unfairly targeted by a Democratic prosecutor.
In his postings, he repeated his lies that the 2020 presidential election he lost to Democrat Joe Biden was stolen and he urged his followers to "PROTEST, TAKE OUR NATION BACK!"
That language evoked the message from the then-president that preceded the riot at the US Capitol on January 6 2021, when his supporters broke through doors and windows of the building and left officers beaten and bloodied as they tried to stop the certification of the election.
His posting echoes one made last summer when he broke the news on Truth Social that the FBI was searching his home as part of an investigation into the possible mishandling of classified documents.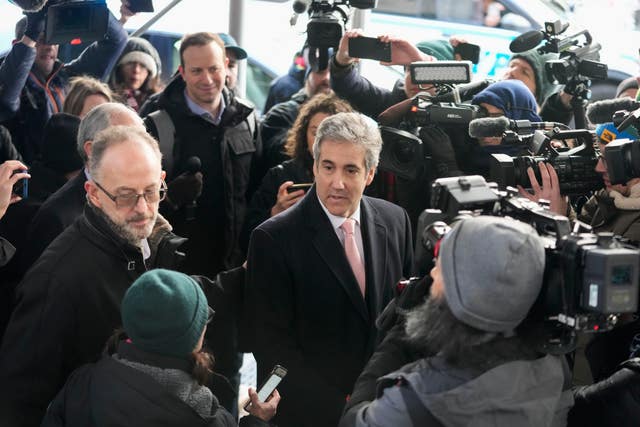 The grand jury in Manhattan has been hearing from witnesses, including former Trump lawyer Michael Cohen, who says he orchestrated payments in 2016 to two women to silence them about sexual encounters they said they had with Mr Trump a decade earlier.
Mr Trump denies the encounters occurred, says he did nothing wrong and has cast the investigation as a "witch hunt" by a Democratic prosecutor bent on sabotaging the Republican's 2024 presidential campaign.
Manhattan district attorney Alvin Bragg's office has apparently been examining whether any state laws were broken in connection with the payments or the way Mr Trump's company compensated Mr Cohen for his work to keep the women's allegations quiet.
Mr Cohen has said that at Mr Trump's direction, he arranged payments totalling 280,000 dollars (£230,000) to porn star Stormy Daniels and Playboy model Karen McDougal.
According to Mr Cohen, the payments were to buy their silence about Mr Trump, who was then in the thick of his first presidential campaign.
Mr Cohen and federal prosecutors said the company paid him 420,000 dollars (£345,000) to reimburse him for the 130,000 dollars (£107,000) payment to Daniels and to cover bonuses and other supposed expenses.
The company classified those payments internally as legal expenses.
The 150,000 dollars (£123,000) payment to McDougal was made by the then-publisher of the supermarket tabloid National Enquirer, which kept her story from coming to light.
Federal prosecutors agreed not to prosecute the Enquirer's corporate parent in exchange for its co-operation in a campaign finance investigation that led to charges against Mr Cohen in 2018.
Prosecutors said the payments to Daniels and McDougal amounted to impermissible, unrecorded gifts to Mr Trump's election effort.
Michael Cohen pleaded guilty, served prison time and was disbarred. Federal prosecutors never charged Mr Trump with any crime.
As Mr Trump pursues his 2024 bid for the White House his first rally is set for Waco, Texas, later this month and he was scheduled to make a public appearance on Saturday evening at the NCAA Division I wrestling championships in Tulsa, Oklahoma.