Pakistan police storm home of former prime minister Imran Khan
Police in Pakistan stormed the home of former prime minister Imran Khan in the eastern city of Lahore on Saturday, and arrested 30 people amid tear gas shelling after someone opened fire from the roof of the building, officials said.
Senior police officer Suhail Sukhera said police moved to remove encroachments and blockades erected by Khan's Tehreek-e-Insaf party and his defiant supporters.
Khan was not at home, having travelled to Islamabad to appear before a judge to face charges that he sold state gifts while in office and hid his assets.
The judge postponed that hearing until an unspecified future date.
Mr Sukhera said baton-wielding Khan supporters attempted to resist police by throwing stones and petrol bombs, but the officers moved on until a man on the roof of Khan's residence opened fire. No-one was hurt.
He said that police broke open the main door of Khan's residence and found masks, petrol-filled bottles, iron rods and batons used in attacks on police during the week.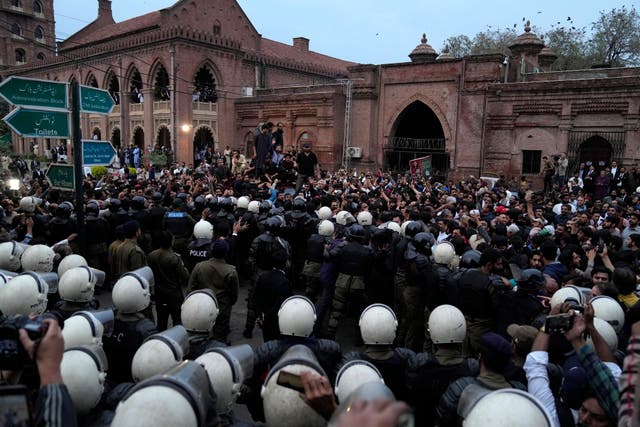 Mr Sukhera said that inside the sprawling residence, illegal structures were erected to shelter those who have been involved in attacks on police that have injured dozens of officers.
Interior Minister Rana Sanaullah said later that police would do a complete search of Khan's home, where they found bunkers and suspected more illegal weapons and ammunition were hidden. He said in Islamabad, many of Khan's supporters were armed.
Witnesses said police attempted to disperse Khan supporters by firing tear gas and chased them to several homes in the Zaman Park neighbourhood.
A top court on Friday suspended Khan's arrest warrant, giving him a reprieve to travel to Islamabad and face charges in a corruption case without being detained.
Khan had been holed up at his home in Lahore since Tuesday, after failing to appear at an earlier hearing in the case.
His supporters hurled stones and clashed with baton-wielding police for two days to protect him from arrest.
Khan, during his journey to Islamabad, said in a video message that the government had planned his arrest despite him travelling to a hearing.
He said police had broken into his residence in Lahore while his wife was alone there. He condemned the action and demanded those responsible be punished under law.
Khan, 70, now in the opposition, was ousted in a no-confidence vote in Parliament last April.
He is accused of selling state gifts while in office and concealing assets. It is one in a string of cases that the former cricket star turned Islamist politician has been facing since his ousting.
He has also claimed that his removal from power was part of a conspiracy by his successor, prime minister Shahbaz Sharif, and the US. Both Washington and Sharif's government have denied the allegations.