Ukraine restores power as it bounces back from latest Russian missile barrage
Ukraine's capital has restored most of its power supply, officials said, as the country responds swiftly and defiantly to the latest Russian missile and drone barrage targeting critical infrastructure.
In what has become a familiar Russian tactic since the autumn, the Kremlin's forces hit Ukraine from afar amid months of a grinding battlefield stalemate on the front line in eastern areas.
The apparent aim is to weaken Ukraine's resolve and compel the Ukrainian government to negotiate peace on Moscow's terms.
Ukrainian authorities scrambled to counter the bombardment's consequences, part of a recurring cycle of urban smash-and-repair which has brought little change in the course of the war.
The Institute for the Study of War, a Washington-based think tank, said in an assessment "these missile strikes will not undermine Ukraine's will or improve Russia's positions on the front lines".
Ukrainian military analyst Oleh Zhdanov said the Russians are striking civilian infrastructure because they cannot efficiently target Ukrainian military assets.
"The Russians lack data about the location of Ukrainian troops and weapons so they are targeting civilian infrastructure and using the same old methods of attacking civilians to sow fear and panic in the society," he said.
"Ukraine has survived the winter and Russia's strikes on the energy system in the spring hardly make any sense."
Power and water were restored in Kyiv, said Serhii Popko, the head of the city's military administration.
Mr Popko said about 30% of consumers in the capital remain without heating and repair work is ongoing.
Power supplies were fully restored in Ukraine's southern Odesa region, private provider DTEK said on Friday afternoon.
Around 60% of households in the city of Kharkiv that were knocked off grid by Russia's missile strikes on Thursday were also back online, authorities said, though significant damage remained in the Zhytomyr and Kharkiv regions in Ukraine's north-west and north-east.
In another sign of normality quickly returning, Finnish Prime Minister Sanna Marin made an unannounced visit to Kyiv on Friday.
Ms Marin accompanied President Volodymyr Zelensky and senior military officers at the funeral of one of Ukraine's best-known fighters and commanders who was killed in fighting near the devastated eastern city of Bakhmut.
The service for Dmytro Kotsiubailo, killed a few days earlier at the age of 27, was held at the cathedral of Kyiv's St Michael's Golden-Domed Monastery.
Mr Zelensky and Ms Marin also laid flowers at a nearby memorial to fallen Ukrainian soldiers.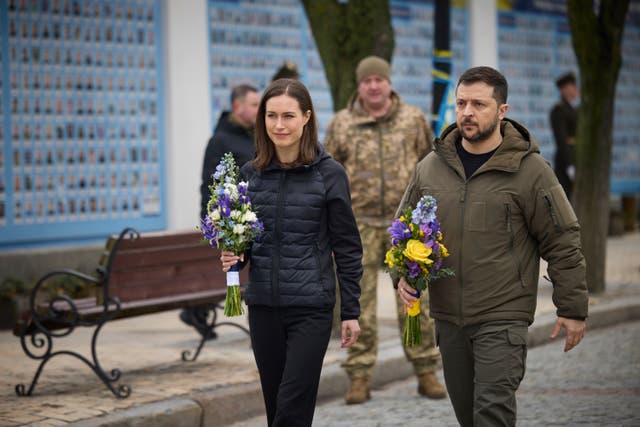 The prime minister echoed other Western leaders who have accused Russia of war crimes in Ukraine and said Russian soldiers and leaders would be held accountable in a courtroom.
"Putin knows he will have to answer for his crime of aggression," the Finnish leader said during a news conference. "The future tribunal must bring justice efficiently and answer Ukrainians' rightful demands."
On the battlefield on Friday, Ukrainian Deputy Defence Minister Hanna Malyar said the fighting in Bakhmut had "escalated," with another push by Russian forces to break through Ukrainian defence lines that have largely held firm for the past six months.
Just west of Bakhmut, shelling and missile strikes hit the Ukrainian-held city of Kostiantynivka. The regional prosecutor's office said eight people were injured and more than a dozen homes were damaged or destroyed in the attacks.
AP journalists in the city saw at least four injured people taken to a local hospital. Police said Russian forces attacked the town with S-300 missiles and cluster munitions.
Thursday's Russian onslaught, much of which took place before dawn, was the largest such attack in three weeks, deploying more than 80 Russian missiles and exploding drones.
The barrage, which also damaged residential buildings, killed six people and left hundreds of thousands without heat or running water.
The salvo was noteworthy for the range of munitions the Kremlin's forces used, including hypersonic Kinzhal cruise missiles which are among the most sophisticated weapons in Russian's arsenal.
Even so, the bombardments on energy infrastructure that gathered pace in the autumn have become less frequent.
"The interval between waves of strikes is probably growing because Russia now needs to stockpile a critical mass of newly produced missiles directly from industry," the UK's Ministry of Defence said in an assessment on Friday.
The Russian defence ministry said the strikes were in retaliation for a recent incursion into the Bryansk region of western Russia by what Moscow claimed were Ukrainian saboteurs.
Ukraine denied the claim and said Moscow could use the allegations to justify stepping up its assaults.