Iraq's sudden crackdown on alcohol and social media posts raises alarm
Iraq has started enforcing a long-dormant law banning alcohol imports and arresting people over social media content deemed morally offensive.
The sudden crackdown, which comes a few months into the government's term, has raised alarm among religious minorities and rights activists.
Some see the measures as an attempt by Prime Minister Mohammed Shia al-Sudani to head off potential political challenges from religious conservatives and to distract from economic woes, such as rising prices and wild currency fluctuations.
The ban on the import, sale and production of alcohol was adopted in 2016 but was only published in the official gazette last month, making it enforceable.
On Saturday, Iraq's customs authority ordered all border crossings to impose the prohibition.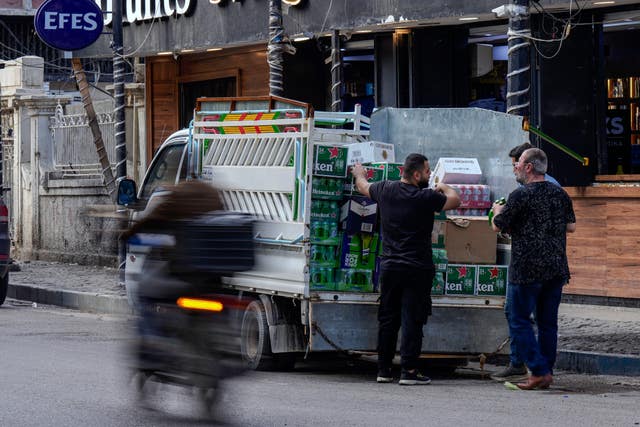 Although many booze shops across Iraq continued their business as usual — presumably using up their stocks — border crossings went dry overnight with the exception of the northern, semi-autonomous Kurdish region which has not enforced the ban.
The price of alcohol, meanwhile, spiked due to tightened supply.
Ghazwan Isso makes arak, a popular anise-flavoured spirit, at his factory in Mosul, Iraq's second-largest city.
He sells it, along with imported, foreign-made alcohol, at 15 shops in Baghdad.
"There are imported goods at the borders that are not allowed to enter, with a value of tens of millions of dollars," he said.
Mr Isso said he is also stuck with three million US dollars (£2.51 million) of goods in warehouses — booze produced in his factory.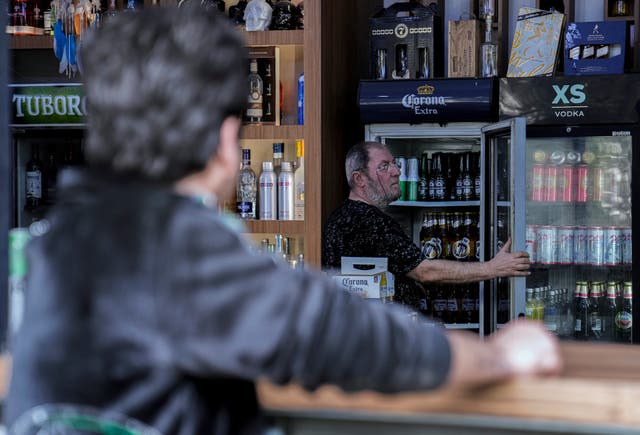 It is not clear yet if and when the ban on the sale of alcohol will be enforced as well, but Mr Isso said he will not send his trucks from his Mosul factory to Baghdad for fear they will get stopped.
For Mr Isso, the ban is a blow to Iraq's multi-confessional social fabric. He believes it will prompt more non-Muslims to emigrate.
Alcohol is generally prohibited in Islam — the religion of the vast majority of Iraqis — but permitted and used in religious rituals by Christians, who make up 1% of Iraq's population of about 40 million.
"The law is a narrowing of freedoms," Mr Isso said, saying the ban will encourage "bribes and blackmail because alcohol will be sold the same way like illegal drugs".
Joseph Sliwa, a Christian former politician, blamed the decision to start enforcing the law on extremists within Iraq's Sunni and Shiite Muslim communities. He said alcohol shop owners and producers will become vulnerable, with those in power or armed groups likely trying to squeeze them for bribes.
Like Mr Isso, Mr Sliwa also fears the alcohol ban could increase the use of illegal drugs.
A judge and former politician, Mahmoud al-Hassan, defended the ban as constitutional and said it is in line with the beliefs of most Iraqis and therefore will not impact personal freedoms.
"Quite the opposite, the majority of the people of Iraq are Muslim and their freedoms should be respected," he said. "They make up 97% of the country."
He downplayed fears that outlawing alcohol would increase trafficking of other drugs. "Drugs already exist, with or without this law," he said. "Alcohol also causes addiction and social problems."
The alcohol ban comes on the heels of the contentious campaign to police social media content.
In January, the interior ministry formed a committee to investigate reports of what it called indecent posts and set up a website for public complaints. The site received tens of thousands of reports.
A month later, judicial authorities announced the courts had charged 14 people for posting content labeled indecent or immoral. Six were jailed.
Among those targeted were people who posted videos of music, comedy skits and sarcastic social commentary. Some showed dance moves deemed provocative, used obscene language or raised sensitive social issues such as gender relations in Iraq's predominantly conservative society.
Amnesty International and Human Rights Watch, as well as local and regional rights groups, said the crackdown on expression violates fundamental rights.
"Iraqis should be free to express themselves … whether it is to make jokes or engage in satire, criticise or hold authorities accountable, discuss politics or religious topics, share joyful dancing or have public conversations on sensitive or controversial issues," the groups said in a joint statement.
Amer Hassan, a Baghdad court judge dealing with publishing and media issues, defended the arrests in an interview with the state Iraqi News Agency.
"There is a confusion between freedom of expression, which is protected by the constitution" and what he called offensive content.
Hamzeh Hadad, an adjunct fellow at the Centre for a New American Security, a Washington-based think tank, said the measures could be part of an attempt to distract from Iraq's unstable currency and to pander to the base of the conservative Shiite cleric and political leader Muqtada al-Sadr, a rival of Mr al-Sudani's bloc.
Mr Hadad said the alcohol ban could disproportionately affect Christians and other non-Muslim religious minorities — a dwindling population in Iraq, particularly in the years since the formation of the extremist so-called Islamic State group (Isis), which at one point controlled wide swaths of the country.
However, Mr Hadad said are also "powerful actors with financial interests in alcohol" who might legally challenge or simply flout the ban.
Religious minorities are not the only ones pushing back against the measures.
"I personally am a Muslim and am not with the law," said Mohammed Jassim, a 27-year-old from Baghdad who says he drinks alcohol regularly. Now he and others like him "will be forced to purchase alcohol under the table from those who dare sell it illegally", he said.
Many Christians see the ban as an attempt to marginalise their community.
In the northern Christian town of Qaraqosh, a booze shop owner who spoke on condition of anonymity for fear his business could be targeted, said the government's move stings, particularly in the wake of years of deadly attacks on Christians by Isis militants.
"They are telling us to get out, we don't want you in this country anymore," he said.