US announces sweeping new Russian sanctions one year into war
The US has announced a new round of sanctions on Russian firms, banks, manufacturers and people, aiming them at entities that helped Russia evade sanctions earlier in the year-long war against Ukraine.
Russia's metals and mining sector is among those targeted in one of the US treasury department's "most significant sanctions actions to date", according to the agency.
The action, taken in co-ordination with G7 allies, seeks to punish 250 people and firms, puts financial blocks on banks, arms dealers and technology companies tied to weapons production, and goes after alleged sanctions evaders in countries from the United Arab Emirates to Switzerland.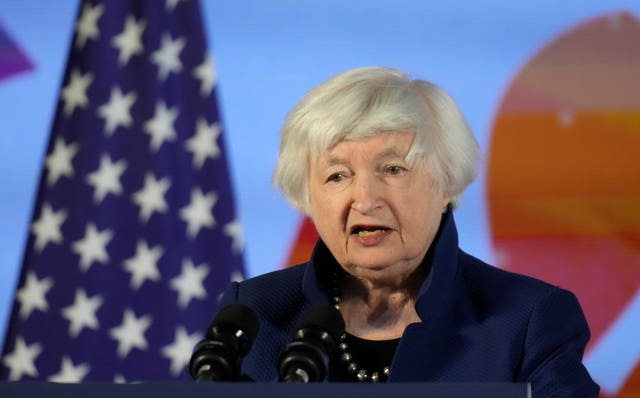 "Our sanctions have had both short-term and long-term impact, seen acutely in Russia's struggle to replenish its weapons and in its isolated economy," Treasury Secretary Janet Yellen said in a written statement.
"Our actions today with our G7 partners show that we will stand with Ukraine for as long as it takes."
Ms Yellen is attending the G20 finance ministers' meetings in Bengaluru, India, this week.
She told senior Russian officials attending meetings on Friday that "their continued work for the Kremlin makes them complicit in Putin's atrocities".
"They bear responsibility for the lives and livelihoods being taken in Ukraine and the harm caused globally," she said.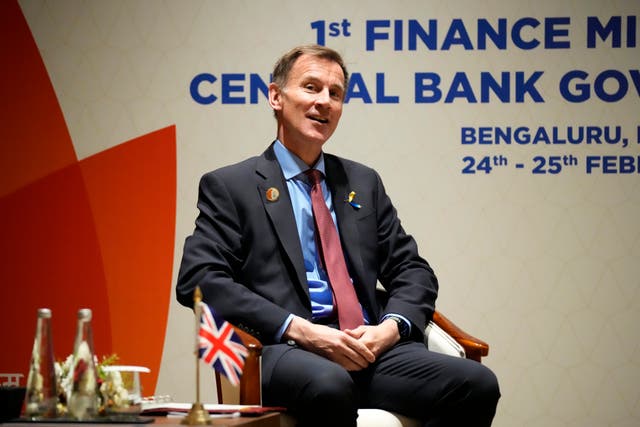 The sanctions come after the White House announced early on Friday that the Pentagon would commit two billion US dollars (£1.7 billion) for more rounds of ammunition and a variety of small, high-tech drones in the fight against Russia.
The State and Commerce departments and the Office of the US Trade Representative will also issue plans on Friday to increase pressure on Russia.
These steps would increase tariffs on Russian products and add nearly 90 Russian and third-country companies, including from China, to a list of identified sanctions evaders.
Named in Friday's sanctions package are a dozen financial institutions, including Russia's largest non-state public bank, importers of microelectronics and producers of carbon fibre, a key material for defence systems.
The package names more than 30 people and firms allegedly connected to Russia's sanctions evasion efforts. Among them: Swiss/Italian businessman Walter Moretti and his businesses; Nurmurad Kurbanov, a Russian/Turkmen arms dealer who is alleged to have represented Russian and Belarusian defence firms abroad; and Russian businessman Aleksandr Yevgenyevich Udodov, the former brother-in-law of Russian prime minister Mikhail Mishustin.
More than 30 countries representing more than half the world's economy have already imposed unprecedented sanctions on the Russian economy, making it the most sanctioned nation in the world.
They have imposed price caps on Russian oil and diesel, frozen Russian Central Bank funds and restricted access to SWIFT, the dominant system for global financial transactions.
The West has directly sanctioned roughly 2,500 Russian firms, government officials, oligarchs and their families. The sanctions are depriving them of access to their American bank accounts and financial markets, preventing them from doing business with Americans and travelling to the US, and more.
After a year, the West's export controls and financial sanctions appear to be gradually eroding Russia's industrial capacity, even as its oil and other energy exports last year enabled it to keep funding the war.
At the G20 meetings on Friday, UK Chancellor Jeremy Hunt said: "We don't think the job is by any means done."
French finance minister Bruno Le Maire, speaking at a G20 press conference, said: "Our sanctions are strong, they are efficient, they are hitting and reducing all revenues of Russia.
"They are disorganising Russian industry, undermining war efforts," he said.
"Sanctions are effective and will be more effective in the long term."
Japanese Prime Minister Fumio Kishida said on Friday he plans to present to other Group of Seven countries a set of "new ideas" for sanctions against Russia over its war on Ukraine when he hosts an online G7 summit later in the day to mark the one-year anniversary of the start of the invasion.
Mr Kishida, as this year's G7 president, told a news conference he also planned to call on other countries to stop providing military support to Russia.
"In order to absolutely not allow one-sided changes to the status quo, we must firmly carry out support for Ukraine and sanctions against Russia to regain peace and international order based on the rule of law," Mr Kishida said. "G7 serves the core of the international commitment to do so."
Mr Kishida made his remarks just hours before he was to host a teleconference with other G7 leaders and President Zelensky.
Russian shelling killed another three civilians and wounded 19 others in the most recent 24-hour spell, Ukraine's presidential office said.